While it may seem daunting to begin thinking about entrepreneurship in the midst of college exams, parties, and classes, these young rising entrepreneurs did just that: Everything started during their college experience, and they're having great success launching new businesses. Read for some inspiration as to what you can achieve during college.
The Grove Ecosystem is an indoor garden that helps people grow their own food year-round, despite seasonal changes. It's a whole ecosystem that "learns with you, collecting data and optimizing for flavor, freshness, and yield," according to their website.
Gabe Blanchet, Co-Founder and CEO of Grove, tells how she helped found Grove Labs during her senior year at Massachusetts Institute of Technology: "During our senior year at MIT, Jamie built an indoor aquaponic garden and we harvested fresh salad greens, culinary herbs, and other fruits and vegetables throughout the winter. We realized that if we could design these systems to be beautiful in people's homes while adding technology to make growing their own food easier and more engaging, we could make the world healthier and more sustainable while building a very valuable business."
Forget clunky watches and smartphones attached to your body while working out. Athos is "the world's first smart fitness apparel that measures muscle activity and heart rate all in real time". Their clothing can literally track your body during a workout, providing helpful information for your health goals on your smartphone.
It three days after their final exams of senior year at Waterloo University that students Dhananja Jayalath and Christopher Wiebe got a call from venture capitalist and former Facebook exec, Chamath Palihapitiya. After a meeting with them, Palihapitiya offered Jayalath and Wiebe half a million dollars to kickstart their wearable fitness company.
Riffraff is an both a physical and online store started while founder Kristen Stuckey (then Blowers) was a senior in college. "One relocation, four renovations, and six years later, Riffraff is a thriving small business with a strong local and national presence," says their website. "Nestled in the heart of historic Downtown Fayetteville, Riffraff strives to emphasize the unique flavor of Arkansas and the southern United States through their hand-selected merchandise"
In the fall of her senior year of college, Stuckey knew she was going to be struggling after graduation in May because of the recession. With $100, she searched for gently used furniture, refurbished those items, and sold them to her Facebook friends. Eventually, she was able to gain a storefront and started selling clothing as well. Today, the six-year-old company has over 670,000 Facebook followers.
Aaron Goldstein and Colin Hill were freshman at the University of Pennsylvania's Wharton School when they first came up with their idea for Fever Smart. Hill was undergoing chemotherapy to treat Hodgkin's lymphoma, which meant he had to monitor his temperature all the time. They decided to find a solution for the frustrations this cause Hill through entrepreneurship.
How it works, according to their website: "A small electronic device, or 'Brain Unit,' is attached to the patient via a disposable patch, and the 'Relay Unit' sits in the same room. The Brain Unit monitors body temperature and transmits data real-time through a nano-bluetooth chip to the Relay Unit, which then sends the temperature data to Fever Smart's servers." Fever Smart's CEO Aaron Goldstein was a winner of the Entrepreneur of 2014 Award.
The idea for Double Map came from a desire to improve Indiana University's campus bus system while Ilya Rekhter and Peter SerVaas served in student government. They pitched the Indiana University Campus Bus Service a plan for a new bus route IU football game attendees, which was rejected. However, this lead to the idea of tracking and displaying buses, and they got the go-ahead to do this. "I realized transit deals paid multiyear contracts up front, which could be our seed [capital] as long as we outpaced expectations," Rekhter explains.
With its real-time bus tracking software, Double Map has now signed more than 90 clients and counting.
It is never too early or too late to start something new.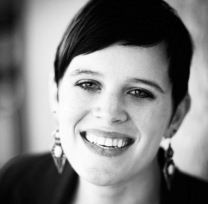 After working in publishing at Penguin Random House, Teryn O'Brien went the entrepreneurial route and launched her own business to help organizations and individuals tell their stories through photography, writing, video, and online marketing strategy. Teryn enjoys exploring the startup & entrepreneurial world, mentoring writers & storytellers, and speaking out against injustice in all its forms. She spends her free time hiking Colorado, writing books, and drinking too much tea.