Even if you don't want to admit it, I'm sure most of us have 'tindered' before. As you've gazed through all the eligible bachelors or bachelorettes within a 5-mile radius of your home, your thumb has gotten a decent workout as it swipes from right to left. But besides checking out all the attractive people near you and maybe meeting up with someone for a drink … or three. Does the popular dating app really do more than promote a shameless hook-up?
Sean Rad, Tinder's co-founder and CEO, is trying to change the way you think about the app. In fact, he awarded a 20,000 scholarship to a University of Nebraska, Omaha student for her loyalty to Tinder. What promoted such a charitable donation? Well, Shannon Workman, a UNO junior, posed with her sorority letters on her Tinder profile picture. Once her sorority's executive team caught wind of the picture, they threatened to expel her from the sorority's chapter since the dating app violated the chapter's code of ethics.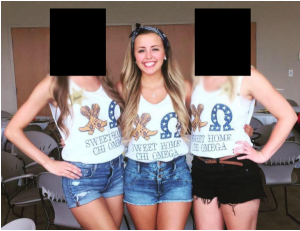 Shannon Workman (center)
Image credit: Shannon Workman | Facebook
Workman's story inspired Rad to react and show other sorority and fraternity members—a popular demographic on Tinder—that Tinder supports Greek life and wants its users to wear their letters with pride. Although Tinder has never awarded a scholarship before, it's a branding goldmine. Show your followers that if they stick with you, they'll be respected (and possibly awarded) for their support, and you've just gained some pretty loyal customers.
Branding experts agree that when you're able to take a bad situation with one of your customers and turn it into something good, you show your users that you truly care. And you care not only about your brand name but also your customers' overall satisfaction with your company.
Would you have swiped right or left on this rebranding move? Tweet @StarterNoise using #standforthebrand.

Katherine is a newbie to Denver. She recently completed her Masters in Peace and Justice Studies at the University of San Diego. When she isn't trying to save the world, Katherine is all about trying any and all delicious foods, hitting up the beach but not actually swimming (deathly afraid of sharks), and taking as many hikes as humanly possible.