If you have electricity, you may not have heard of Nokero. But in energy-deprived communities around the world, these solar products are changing the way millions of people live. Steve Katsaros is the man behind Nokero, the social enterprise that is forging a new path in solar-powered energy.
In January 2010, Katsaros was struck with a bright idea for a solar-powered light after noticing the lights that were burning all night at a construction site. In his subsequent research he discovered a much larger market could benefit from solar power. Around the world, 1.3 billion people live without electricity, and many depend on kerosene, which can be dangerous and toxic when not used carefully.
He developed his concept, filed a patent, and got to work. The result: the N100 solar light.
Nokero officially launched on June 10, 2010. Just six days later, a six-minute interview with CNN sparked a wave of interest from prospective partners around the world. Katsaros' work was breaking new ground.
"At that point, the issue of energy poverty was not widely known," he says.
Seven months after Nokero's launch, Katsaros took a trip to Pakistan and gained firsthand experience with the kind of communities which would benefit from his invention.  Since then, Katsaros and his solar-powered lights have traveled around the world.
Nokero is not a charity, but a social enterprise. "You can only give away so many lights," Katsaros says. "Lasting success for these communities is market-based."
Initially, Katsaros admits he knew little about social entrepreneurship, but pursued the approach after connecting with Dr. Paul Polak of International Development Enterprises. Nokero utilizes local retail networks of small entrepreneurs in developing communities to sell its products.
Five years in, Nokero is thriving. But there are still hurdles to overcome.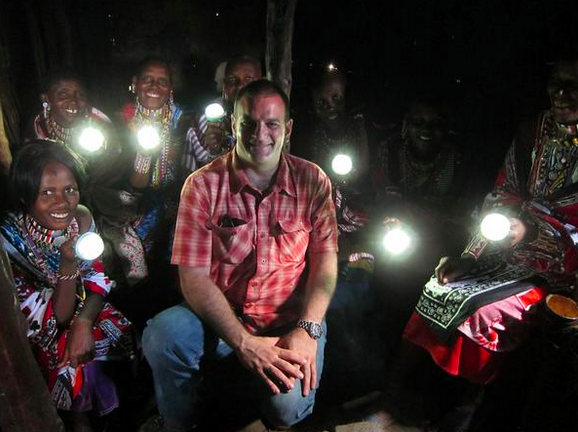 "I face fifty challenges a day!" Katsaros jokes. "The biggest challenge has probably been the nature of global business and applicability. How do you take what you learned in one place and apply it to another?"
Katsaros says that he has been able to succeed as an entrepreneur and inventor because, "I'm just wired to keep going, to keep thinking and refining."
He admits that he is not keen on routine, and has never been one to hold a strict schedule. Of course, he is prepared to stay up late to get things done and explore new ideas whenever they come to him. This work demands a certain mindset, Katsaros notes, "To be an inventor you need determination, a conviction you can find a solution…just keep chipping away."