Social media is becoming increasingly effective when it comes to branding. Indian nonprofit Green Dream Foundation recently launched a compelling ad campaign to bring attention to the excessive amount of plastic waste gathering in public areas like beaches and high traffic streets. Encouraging social media users to photograph the discarded trash with the brand imagery showing then post it on social platforms with the hashtag #isthisyours asks you to also tag the brand. While controversial to some, the hope is that brands will be, essentially, publicly shamed into taking a more environmentally-friendly approach to manufacturing and packaging.
The approach is interesting. On one hand, there's a risk as social media users are getting pretty fed up with negativity. The overwhelming and seemingly constant onslaught of bad news from all over the world coming in from every direction has exhausted the general public. Social users are turning to more positive content, looking for uplifting news or cute pictures of puppies (my personal fave), and this kind of content has a more negative focus.
On the other hand, though, the positive aspect of bringing attention to a constructive cause can outweigh the negativity for many social media users. When social media networks first blossomed, part of their appeal was the accessibility – suddenly the ability to reach millions of people with a message was democratized. Political and social movements have been enhanced and spread thanks to Twitter and Facebook Live (particularly during the Arab Spring); justice has been helped along by regular citizens able to use social platforms to transmit communication that otherwise would've been stamped out by oppressing forces. This aspect of social media used a tool for the people, has always been at the heart of the industry. So it's really no big surprise that the Green Dream Foundation movement to call out corporations for their irresponsible packaging is catching on regardless of the increasing push for more positive content.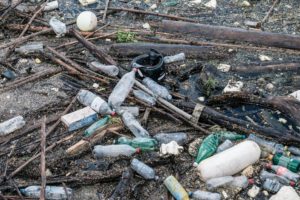 The idea of guerrilla marketing is, of course, not new. Virality began long before digital communication; social media marketing is just the newest evolution of innovative, low-cost viral marketing. The Green Dream Foundation has a mission of prioritizing knowledge and awareness to help effect positive environmental change, and that clearly drove their thinking here. They managed to find a sweet spot between the growing desire to do well balanced against the fatigue of moral outrage and introduced a clever way to bring attention to a problem without causing grief to their audience. Definitely a win all around.
Stay in the loop with us at StarterNoise to be the first to know when something big happens.