Bonjour to France's Station F: the world's largest startup campus! Paris recently became home to France's Station F—a huge building dedicated to supporting startups in France. Thanks to French billionaire, Xavier Niel, an abandoned 1920's freight depot has been renovated to create Station F.
France's Station F is a business incubator for startups, located in the 13th arrondissement of Paris. It is noted as the world's largest startup facility. Situated in a former rail freight depot previously known as la Halle Freyssinet
So how big are we actually talking when we say Station F is the 'world's largest startup campus'? Well, the building holds 3,000 desks, with the capability to house 1,000 startups … that means nearly 9,000 individuals will work at Station F on any given day.
Station F's Director, Roxanne Varza, said: "Our goal with Station F is not only to create the largest startup campus in the world but also create a space that houses an entire startup ecosystem under one roof." …"It's a truly ambitious international project that puts France and Europe at the forefront of the international startup map."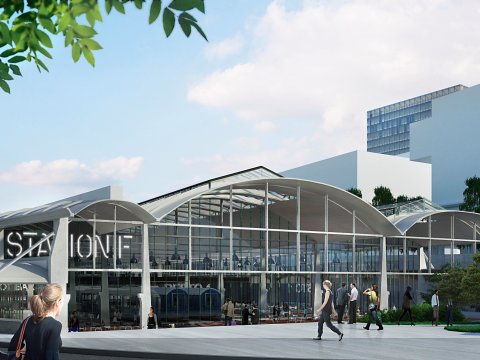 Varza makes a great point, France's Station F does put France on the map for startups and will most likely grow international interest in French startups. We're so here for France's Station F. 
Would you sail west to be a part of France's Station F? Tweet @StarterNoise.
Stay in the loop with us at StarterNoise and be among the first to know when something big happens.

Katherine is a newbie to Denver. She recently completed her Masters in Peace and Justice Studies at the University of San Diego. When she isn't trying to save the world, Katherine is all about trying any and all delicious foods, hitting up the beach but not actually swimming (deathly afraid of sharks), and taking as many hikes as humanly possible.