The medical, healthcare and wellness industries are ripe for disruption. Making products from vitamins to glasses more accessible and affordable will throw a wrench in the cog of an industry that has been over-charging and slow to innovate.
Warby Parker made getting glasses more fun and turned what once was inconvenient drudgery into an impactful business model, internationally.
Dollar Shave Club and Grove Collaborative innovated to bring mundane items – razors, cleaning supplies, and sponges – into a new era of brand loyalty, convenience and automation.
Now, Hubble Contacts is trying to make their mark on an industry that hasn't had a new player in over a decade.
Breaking into an Industry
Hubble is breaking into an industry where only four manufacturers control 95% of the market. That lack of competition has made it hard for consumers, and expensive.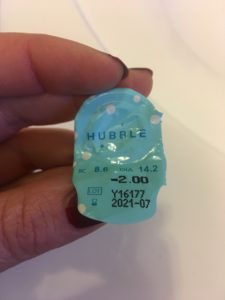 Thirty million people wear contact lenses in the United States, but they haven't had the opportunity to purchase daily contacts, on a subscription, delivered straight to their door, at maximum affordability, before. Sellers like Walmart and 1-800-Contacts have tried to make it slightly easier to access contact lenses, but mark-ups because of all the middlemen has remained a factor. Even in this slightly more convenient system, brands have not enjoyed real customer loyalty. Most people don't even know what brand of contacts they use.
Daily lenses are ranked as the most hygienic version of contacts, but less than a third of people wear the disposable lenses that are meant to be tossed at the end of the day. Part of it is the trouble of constantly getting a new pair from your doctor when a box runs out, and the expense. Daily contacts, under the traditional model, can cost a person between $480 to $720 per year. Add to that the cost of solution, and new contact cases every time you switch your lens (recommended) and some people won't/can't afford to take care of their eyes.
Enter Hubble.
Hubble has taken daily wear contacts and made them more accessible, more affordable, and opened the door for a level of brand loyalty not experienced in the industry. The brand provides lower cost contacts by eliminating middlemen. They have partnered with a factory in Japan to manufacture and create FDA-approved lenses in custom, recyclable, branded packaging.
Customers subscribe to a monthly shipment of contacts by entering their lens information and prescription online. Hubble verifies that information with the individual's eye doctor and then sends out boxes every month for only $30 a shipment, or $264 a year. This puts the convenience and health of a person's eye sight at half the cost of the long-time manufacturers controlling the market.
Hubble's Launch
Hubble was founded by Ben Cogan and Jesse Horwitz. Cogan and Horwitz have admitted something that the main contact manufacturers have seemingly ignored – that when contacts are priced too high, or the process too inconvenient, people sacrifice their eye health by over-wearing their lenses.
Cogan was at Harry's, the subscription razor and grooming product company, when he got the idea for Hubble. Their business model includes owning the entire supply chain, eliminating middlemen, and improving the experience for consumers. The facility in Japan that creates the contacts has been making high quality contact lenses for 20% of the contact lens wearing population in Japan, for more than 20 years. The contacts are meticulously made, money saved in the process, not by sacrificing the product.
Hubble raised $7.2 million in early stage venture funding. Funders included Founders Fund, Greycroft Partners, Wildcat Capital Management, Two River and two angel donors – Oscar Salazar of Uber and Brian Levy who was formally at Bausch and Lomb.
Finally, Hubble went a step further and put their high quality contacts into 100% recyclable boxes and lens packs. "We help you see the world – you can help make it worth seeing," they say.
My Hubble Experience
I am, admittedly, one of the over-wearing, often procrastinating contact lens wearers of the world. I have been known to wear my lenses until they rip, run out before I have even thought of making another appointment with my doctor, and buy the cheapest lens I can instead of continuing with one brand. The one and only time I bought lenses in bulk, I ended up with a lens I hated, one that tore easily and was very uncomfortable in my dry eyes and my semi-arid location. While I was willing to try Hubble, I wasn't holding my breath. My experience with contacts has just never been great.
I had just run out of my last purchase when I signed up with Hubble for my free two-weeks. It was very simple to input my prescription, verify the size based on what was printed on my last box, and tell the company who to verify the prescription through on their website. It didn't take more than five or six minutes, honestly. It was very simple.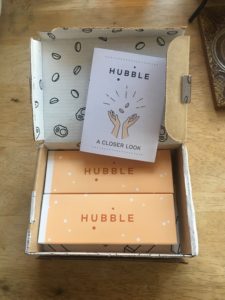 The contacts arrived in the branded boxes Hubble worked so hard to create. The boxes are labeled for the right and left eye with a string of lens packs filling the inside. They were at my doorstep in a couple of days versus the three weeks it would have taken to get an appointment with my doctor plus the order, plus going back to pick them up, plus the expense. My first box from Hubble only cost $3 shipping.
Day one with Hubble
My first impression of Hubble was that they were incredibly comfortable. Like, disappear and forget you are wearing them comfortable. Not once did I stop because of my contacts, not once did I have to adjust, not once were they dry after I was staring at a computer screen for too long. My last contacts gave me a headache by mid afternoon. Hubble didn't even remind me they were there. They just did their job and let me do mine.
When I went to remove them in the evening I was relieved that I could just throw them away. No contact lens case to clean, no worrying about the eye parasites that exist if you don't clean thoroughly enough  (I am traumatized from something I saw on The Discovery Channel). They were gone and my next set was ready to step up to the plate in the morning.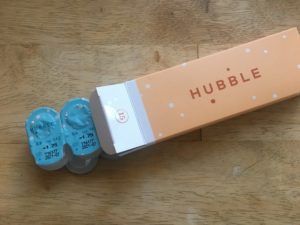 They were a little difficult to take out, and the difficulty made my eyes red and irritated for a couple of minutes. I don't know how many hours daily lenses are meant to hold up, or if I have just had poor contacts in the past, but by the end of my long day they were almost stuck to my eyeball and resisted being relieved of their duties. I am not used to that kind of connection. Usually I am fighting to keep the damn things IN my eye all day.
Today is day two and I am just as impressed with the comfort of the fresh, new pair that I am wearing. That new, fresh contact feeling every morning? I will take it. I have been typing and researching for hours and my eyes still feel fresh and alive. Even if it takes a little extra effort to remove them tonight, I am really quite happy. My one reservation was all that packaging, but I found out they can all be recycled! Recycling the small boxes and plastic lens packs is easy and can help offset the extra cardboard and plastic that I will be receiving over the next few months.
I think I am a fan of Hubble.