As women, I'm sure we've all heard about or experienced firsthand the nightmares of "clever" guys on dating apps bombarding us with "clever" opening lines that leave one shuddering in disgust. There are countless articles and Instagrams devoted to encounters that would make even the staunchest romantic cringe and wonder if love is truly dead.
I'll admit that I'm a romantic at heart. I'll also admit that I'm a feminist who takes the respect of women seriously. I often wonder: Who in their right mind thinks that approaching women like this is okay? And how can fun, casual online dating still be fun and casual without being disgusting and creepy? I mean, maybe some girls are turned on by sexist, immature one-liners about–oh, you know, things like incest. But I think it's safe to say there aren't many. I'll admit I haven't tried out Tinder or other like-minded dating apps because of the overall reputation for sex-addicted creeps and obvious desperation.
Just maybe my mind has changed. A new dating app—founded by Tinder's Whitney Wolfe, whose story of sexual harassment while helping create Tinder probably foreshadows the app's reputation to come—seeks to help level the playing field in the dating game by giving women the upper hand. Labeled a "feminist" dating app, Bumble's spin is that it allows women to contact someone first. Once two people swipe right, the woman must make the first move.
The woman gets to initiate the the conversation. What an idea! I suppose a woman might like to open the conversation by making clever remarks about pussies, penises, and penetration. However, it's probably safe to say a woman–who may think such things–might not necessarily say them initially and try to start a genuine conversation before things get cray cray.
I admit, the thought of a dating app where women control who talks to them appeals to me. It's like the ultimate Sadie's Hawkins dance at our fingertips year round. As announced in August, Bumble is also creating a way to weed out those terrifying trolls online through their VIBee status program. This VIBee status is issued only to guys who aren't ever reported for harassment, who engage with the community nicely, and who seem to have a genuine interest in communication.
Who would've thought? Maybe there ARE some nice guys in the midst of all the weeds just waiting to emerge and prove their VIBee worth by NOT making crude and disrespectful comments to members of the opposite sex. It's a novel idea, for some. But maybe it's just giving men a chance to step up and not be overshadowed by their–ahem, lesser representatives. Not all men, am I right? (Please let me right).
https://instagram.com/p/6LL_uGucjW/
Like the Twitter sensation a year ago, maybe not all men are jerks, but #YesAllWomen have been harassed, and it's only gotten worse since online dating. Bumble certainly hopes to change this, and their intent with the VIBee status idea is to help ensure authentic connections among people.
Since its launch in December 2014, Bumble has between 800,000 and a million users. The user ratio is roughly equal men-to-women, although skewed slightly female. According to various opinions, some women have liked the idea of being the first initiator, while Bumble has made other women realize how stressful initiating things (which usually falls to the guys) can be. For men, it's helped alleviate some of the pressure on them, because they know a girl is interested and can move forward more quickly.
If nothing else, maybe apps like Bumble can cause everyone to empathize with each other. Initiating a conversation is never easy, the dating game can be stressful on all parties, and maybe thinking twice before making dirty jokes to a complete stranger is actually a good thing. Maybe we all learn lessons by walking in someone else's proverbial shoes.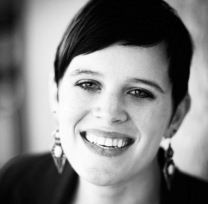 After working in publishing at Penguin Random House, Teryn O'Brien went the entrepreneurial route and launched her own business to help organizations and individuals tell their stories through photography, writing, video, and online marketing strategy. Teryn enjoys exploring the startup & entrepreneurial world, mentoring writers & storytellers, and speaking out against injustice in all its forms. She spends her free time hiking Colorado, writing books, and drinking too much tea.