In a world where Donald Trump is elected president and the Cubs win the world series, it should really come as no surprise that The Chainsmokers find themselves charting in the US and winning the American Music Awards' "Favorite Pop/Rock Band/Duo/Group award."
Considering the Chainsmokers as a rock band is like considering the sounds they make are music, it's a stretch. Their new EP, Collage, fits perfectly into their image of two frat bros that don't think, but know that they're better than everyone else, and are fighting the good fight by calling out performers at the MTV VMA's for lip-syncing.
That's the beauty of a Chainsmokers concert, they don't have to get bogged down with 'playing' any instruments or dealing with needy singers that exist on stage in person. They simply press play and let the sound engineers from their studio sessions do all the work. I think one of the worst aspects of going to a concert is it doesn't sound exactly how I remember it sounding on the album, and that's exactly why the Chainsmokers thrive. They don't waste your time or money tuning instruments and giving original live renditions, they just play their album really loud through big speakers, and jump around on stage like their trying to keep the people living in the apartment below them up all night because their f*cking dog won't stop barking.
There's no denying of the bustling music scene that exists here in beautiful Boulder, Colorado. With over 300 days of sunshine a year, and a community that's closer than most families, it takes a true talent to set the soundtrack to life here in Boco. But like all true legends, The Chainsmokers succeed where others fail. I'd say 1 in every 5 students walking to class on the CU campus is probably slapping The Chainsmokers, and if they aren't, are they even worth talking to?
But when push comes to shove, Andrew Taggart and Alex Pall give it to you straight. Whether it's informing the public of their combined penis sizes, calling Deadmou5–the very artist that made their success possible–a 'dick.' Or writing heartfelt songs with deep lyrics, like the banger #Selfie, you know that with The Chainsmokers, what you see is what you get. Jokes aside, the women they get to sing on their tracks have incredible voices, and it would be rude not the thank the Chainsmokers for pointing me in the right direction of people with actual talent.
I'll be on the look out for the next Daya concert in the US, but hopefully she just plays songs directly off her album, because nothing is worse than hearing songs you love being butchered live by a pompous artist who thinks they can match studio quality work through a microphone in a room with subpar acoustics.
Tweet @StarterNoise to let us know what you think about the Chainsmokers.
Photo Credit: Forbes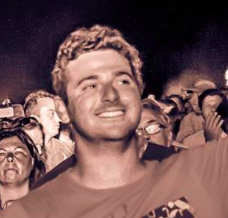 Sam Blakesberg, although only 23 years old, has a lifetime of experience under his belt, including playing softball in a local Boulder adult league, and accidentally bowling a 180 one time. Bored with the mundane existence of actually working, he decided to become a 'writer' mostly to impress people he doesn't know. Sam has worked for Last Week Tonight and Vice, and some people attribute the success of those shows to his talents. Those people are wrong.