Creativity and innovation need room to roam. Ideas need to flow, brainstorming sessions need to produce the best and biggest ideas that have even been. But, the average office space, dorm room or coffee shop doesn't lend to these moments of instant inspiration. Until they are converted with WriteyBoards.
WriteyBoards converts any surface into a dry erase surface. From a plain wall to a Post-it Note, you can eliminate paper and create the perfect space for thoughts and ideas.
The company gives anyone access to dry erase paint, board, notes, thought bubbles and conversation rounds. You can choose white, dark or transparent. You can change your wall, your window, your desktop, or any other surface into a re-useable, white board surface.
WriteyBoards almost wasn't funded by Mark Cuban, until it was. The guys who founded the company were scheduled to audition for Shark Tank, but fell asleep at their desks. No joke. Pulling an all-nighter to prepare for the audition, they passed out instead.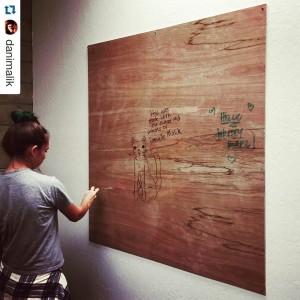 So they did what any of us would do. They sent an email.
Utilizing their network of contacts they found someone willing to connect them with Cuban, who eventually laid out some funding, $150,000, plus business development, and mentorship and the rest is history.
Okay, not yet history cause WriteyBoards are making waves. BeatsAudio, Cartoon Network, NASA, Nike and RedBull are just a few of the companies that are using WriteyBoards. The company attributes their success to providing a truly stellar product – one that took a regular old thing like a dry erase board and transformed it into a modern tool of creativity.