Have a big event and can't seem to find anything to wear in your closet? To make matters worse, the big event is in a few hours so you have no time to order something offline or run to the mall. Well Curtsy, an app created by a sorority sister at the University of Mississippi, allows you to search for clothes within a mile radius of your location. Basically, the app allows you to buzz over to your neighbors place and try on her dress quick to see if you've found the cure to your clothing crisis.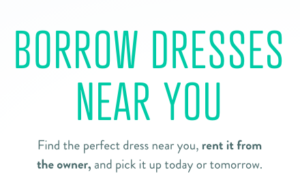 Similar to Rent-the-Runway, Curtsy allows you to skim a variety of clothing in whatever sizes, colors, or occasions you may need. However, there is no delivery service, so if you want something to wear from the app, you'll need to go over to the renter's house and try it on for yourself. Afraid your dress will get destroyed by the person renting it? No worries, all clothing items are protected under Curtsy's "Shit Happens Policy."
Initially, the app was solely at the University of Mississippi, but it has recently blossomed at other universities in the south. With, what seems like, hundreds of events to attend during college, it's nearly impossible to afford a brand new outfit for each event. Curtsy allows you to spice up your attire while also allowing you the opportunity to make some money off of the items in your closet. The team operating the app boasts about the major investments you can make off of those forgotten dresses in your closet that have only been collecting dust the past few months.
Think you'd give Curtsy a try? Tweet @StarterNoise letting us know!

Katherine is a newbie to Denver. She recently completed her Masters in Peace and Justice Studies at the University of San Diego. When she isn't trying to save the world, Katherine is all about trying any and all delicious foods, hitting up the beach but not actually swimming (deathly afraid of sharks), and taking as many hikes as humanly possible.