There is a growing niche of innovations focused on social justice and peacebuilding. Ever heard of Charity Water, Pencils of Promise, or Natakallam? All three of these startups are fusing social innovation with social justice to create a platform for peacebuilding. And it doesn't end there, issues concerning poverty, homelessness, refugee resettlement, immigration, education, and hunger (just to name a few) are poking at the minds of entrepreneurs and changemakers every day.
So how exactly can we get involved with these pressing topics being addressed by social innovations? Well, for starters, we can begin by learning more about the growing issues that are causing billions to raise their voices all around the world. And finding a place to collaborate and grow with peers who share like-minded ideas just became a whole lot easier thanks to the University of San Diego's new Master's in Social Innovation program.
The Master of Arts in Social Innovation is the first of its kind as it is rooted in a Peace School—the Joan B. Kroc School of Peace Studies. The program starts by diving deep into real social challenges from a peace and justice perspective, then pairs that knowledge with critical thinking, inventiveness, leadership, and sustainable business design. As an alum of USD's Masters in Peace and Justice program, I can say for certain that students receive the unique opportunity to engage directly with the most complex and intriguing issues of our time like the San Diego-Tijuana border—one of the most contested border regions affecting world politics today.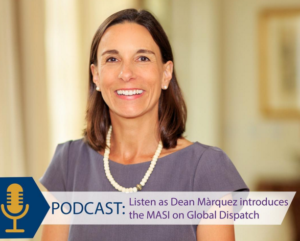 What else makes this new Master program so groundbreaking? It is designed to push entrepreneurial driven students to collaborate with one another to create systemic change across a wide-range of organizations—including startups. Better yet, the program focuses on developing a specific set of knowledge and skills so positive social change, peacebuilding, and professional success can be accomplished in a wide range of sectors. The program calls on a variety of candidates including recent college graduates to professionals who would like to increase their impact with new perspectives and new problem solving abilities.
Have socially innovative vibes running through you now? Well, it's not too late to apply—the application deadline is March 15! If you're interested in getting more information, the Dean of the Joan B. Kroc School of Peace Studies, Patricia Màrquez, discussed the new program on the Global Dispatch Podcast.
Think you'd check out USD's new Master's in Social Innovation? Tweet @StarterNoise using #MASI to let us know what you think!

Katherine is a newbie to Denver. She recently completed her Masters in Peace and Justice Studies at the University of San Diego. When she isn't trying to save the world, Katherine is all about trying any and all delicious foods, hitting up the beach but not actually swimming (deathly afraid of sharks), and taking as many hikes as humanly possible.