Ellen Degeneres, the comedian, talk show and Oscars host launched her lifestyle site, EDbyEllen. In the past 24 hours, Ellen has received 300,000 users and sold out of her the majority of affordable stock. There are many similar sites to Ellen's new venture such as Blake Lively's Preserve or Gwneth Paltrow's Goop— though what separates EDbyEllen from the rest of the pack is the heavy focus placed on various homemaking crafts that can be made or completed with minimal financial investment.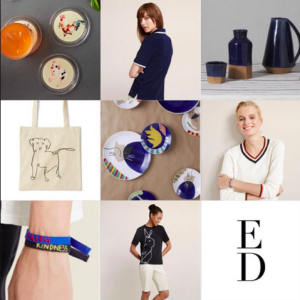 In fact, things seem to be going so well for Degeneres that a partnership with PFSweb has already transpired.
"We're very excited to work with a new brand created by one of the world's most beloved and iconic personalities," stated Mike Willoughby, CEO of PFSweb. "For "ED," we built a customer experience that fully reflects Ellen's passion and authenticity, as well as the witty spirit that has attracted such a large and loyal following."
PFSweb has provided a number of technology based services for the design, development and support of the new site. PFSweb Agency was the architect of the site's design, which includes the concepts sprinkled through the site that can be classified as 'brand-enhancers' for a more fully realized user experience.
So what do you think? Will Ellen's lifestyle site end up being the talk of the town? Or is this particular field already too saturated as it is? Tweet us your thoughts to @StarterNoise @MegannRundell using the hashtag #EDbyEllen