Fair trade products are essential to providing consumers with products that are produced in a fair and just manner. Many of us go out of our way to make sure the products we purchase are made with fair trade values in mind. By supporting a fair trade market, we support and empower communities to create products with social, economic, and environmentally high standards.
Startups are at the forefront of creating a market of accessible fair trade products from all across the world. Thanks to the innovative work of Castellano Ethnic Origins, you can now purchase artisan-crafted bags that not only give you a stylish new piece to fit into your wardrobe but also provide women with sustainable community-based jobs in Northern Columbia. Check out their Kickstarter campaign, which launches today, October 25!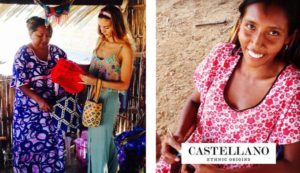 Daniela Castellanos—an entrepreneur ready to bring fashionable fair trade products to consumers—created Castellano Ethnic Origins. Born in Columbia, Castellanos took a journey all across Columbia shortly finishing college. She came upon the Wayuu people, an indigenous population known for their craftsmanship and spirituality. Inspired by their hard work ethic and beautiful crafting abilities, Castellanos decided to launch her career as an entrepreneur—by providing fashionable bags in exchange for giving Wayuu women the opportunity to earn a living and sustain their communities.
And did I mention that these bags are absolutely stunning? Castellano Ethnic Origins offers shoppers bracelets, messenger bags, backpacks, and clutches all at an affordable price that provides the women responsible for their amazing designs a sustainable income. Oh and this startup gets even better, a portion of their profits go back into the Wayuu communities by helping them gain better access to clean water.
Think you'd treat yourself to a brand new Castellano Ethnic Origins bag? Tweet @StarterNoise or comment on Facebook to let us know!

Katherine is a newbie to Denver. She recently completed her Masters in Peace and Justice Studies at the University of San Diego. When she isn't trying to save the world, Katherine is all about trying any and all delicious foods, hitting up the beach but not actually swimming (deathly afraid of sharks), and taking as many hikes as humanly possible.