Actually, Mark Zuckerberg wears the same shades of grey every day.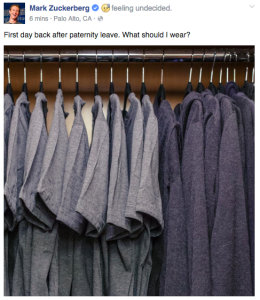 He is one of many successful people who takes the guesswork out of what to wear to the office by stocking his closet with duplicate versions of the same gray t-shirt and hoodie.  A bit boring, and drab? Yes, but there is something to say about not having to think about what to put on each day.  Think of the time, energy and often stress saved by not having to try on numerous outfits each morning before walking out the door.  Not to mention the amount of time saved by buying your wardrobe in bulk.  
For too many of us wearing the same thing every day would be a true fashion faux pas.  Similar to those of us who attended private school and had to wear the same drab uniform every day, it might feel like a fate worse than death! But, to those that thrive on efficiency and not having to sweat the small stuff, there's something ingenious about opening a closet and not having to make a decision about what to wear.  
While Mark Zuckerberg may not be on anyone's Best Dressed List, he surely has proven his dominance in other areas, and his closet pic on Facebook definitely received a like from yours truly!
Mark Zuckerberg on three different occasions. Photo Credit: www.CNN.com