Animal rescues are a thing, but what about a food rescue?
There is a saying that "People are not going hungry because there isn't enough food. People are going hungry because capitalism says that it is better that people starve than food be given away or sold cheaply."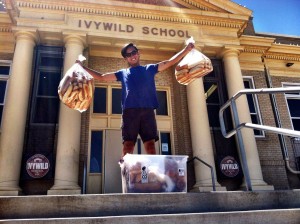 Some people are giving capitalism the finger and making it possible for food to get to those who really need it. In Colorado Springs the non-profit Colorado Springs Food Rescue was started by a Colorado College graduate. The organization takes food that would normally be thrown away – from grocery stores, restaurants and more – and transports it to the places that need it – like homeless shelters, soup kitchens, food pantries and other non-profits that help the hungry. It seems so simple, but for years food has been going to waste instead of going to people. Over 133 billion pounds of food a year are sent to dumps instead of made into delicious, healthy meals.
Colorado Springs Food Rescue isn't the only non-profit diverting what would be food waste to places that need it. Food rescues in towns all over the country have programs that include volunteers riding their bikes to transport fresh fruits and vegetables, donations taken to help get food on the shelves in people's homes, and food grown in community gardens that is free to the public for harvest. A lot of these programs are started by and run by college students.
Campus Kitchen (@CampusKitchens) is a program that sets up kitchen teams on college campuses that can help stop food waste and get nutritious food to people in need. The program puts college students in charge and trains student leaders in food security issues. According to their own description: The Campus Kitchens Project is a national organization that empowers student volunteers to fight hunger and food waste in their community. On 53 university and high school campuses across the country, students transform unused food from dining halls, grocery stores, restaurants, and farmers' markets into meals that are delivered to local agencies serving those in need.
The Food Recovery Network and lots of campus food banks are the brain-children of college students who recognized a need and an opportunity. Does your campus or town support a food rescue? Share your experience with @StarterNoise using the hashtag #foodrescue
Updated July 12, 2016: This article erroneously connected The Campus Kitchens Project with the EPA. Article amended to accurately represent The Campus Kitchens Project.