Blast The Beatles' "With a Little Help from My Friends" and download Meddle to see where this fun-dating app takes your love life!
Nowadays, nearly 1 in 3 couples meet online. And the stigma associated with dating someone from an online dating app has decreased significantly. On a personal note, I know plenty of my close friends who found great guys and gals off of Tinder, Match.com, and Bumble (just to name a few). But the online dating world is about to get a new competitor that is ready to shake up your love life. Check out Meddle, the first dating app that is designed to help make the dating process easier by allowing your friends and family to do the swiping for you!
So I know what you may be thinking … allowing your friends to pick out eligible suitors is downright scary. But Meddle gives you the option to set filters on who you'd like to meet. Then, the best part, you pick your "Meddlers"—the close people in your life that you trust enough to help find you a 'great catch.' And no more having your friends grab for your phone and logging into your dating apps. Meddle lets your Meddlers have access from the comfort of their very own phones. The magic happens when your Meddlers' choice for you gets paired with your future lover's Meddlers choice (aka you). And bam! You've got yourself a hot date.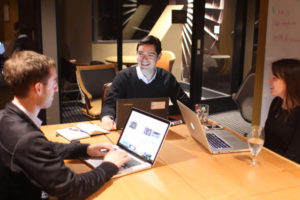 StarterNoise had a chance to chat with Peter Leonard, Meddle's Co-Founder and CEO, about some of the awesome features of this up and coming dating app. Leonard explained that the idea behind Meddle came about when, "we noticed our friends who were coupled-up absolutely loved playing with our dating apps when we were single. They wanted to find us someone worthwhile and some had missed out on the fun of online dating themselves. We realized that there was an opportunity to help both single people and their married friends at the same time." And I think many of our StarterNoise readers can relate to this very same situation—your friends generally know what's best for you and love the opportunity to 'meddle' with your love life. So why not give them an app that lets them do just that?
In the future, Leonard explained, "short term we're focusing on the Seattle market (though the app still works in other cities). It's where the team is located and we've gotten great insights from watching people use the app, which is helping us improve the experience. Our long-term plan is to expand, first across the US and then internationally. So that if someone's Meddlers are overseas, they could also use it to find themselves a date, no matter where they are in the world." So stay tuned if you're outside of the Seattle area—Meddle is on its way to you soon!
Would you download Meddle and let your friends take the wheel with your dating life? Tweet @StarterNoise to let us know!