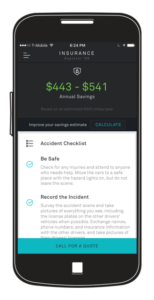 We all know how expensive car insurance can be. And to make it worse, many of us don't drive too much on a daily basis, yet we pay a fortune to insure our cars. But we also know just how important it is to have it, because accidents happen… all the time. What if you no longer had to pay an absurd amount of cash every month to insure your vehicle? What if you only paid for the miles you drove? Well, Metromile could be your ticket to lower car insurance.
We had the pleasure of chatting with Lauren Hartung, Metromile's Head of Public Relations, about the awesome work of this innovative startup. In a nutshell, Metromile is pay-per-mile car insurance. So basically, all you do is pay for the miles you drive. Period.
Founded in 2011, Metromile merged (get it?!) the idea of pay-per-mile car insurance with technology. Thanks to Metromile Pulse, a small and free wireless device that plugs into your car's OBD-II port, you can easily track how many miles you're driving every month. And better yet, there is an app to help you track your miles and monthly car insurance bill. (How convenient!) Low-mileage drivers pay nearly $500 extra every year on car insurance. But thanks to Metromile, you can pay a reasonable base rate every month plus a small per-mile charge.
Metromile is a growing startup with over 200 employees, and you can find their offices in San Francisco, Boston, and Tempe. But every startup must endure some pits and peaks when growing their business. Metromile explained that they learned that they needed to expand their portfolio by holding risk and handling claims. They "wanted the chance to deliver a vastly new experience on the claims front … focus on the financial benefit of being an independent carrier." And they have accomplished just that because Metromile acquired Mosaic Insurance Company, which basically meant that they could underwrite their own policies and manage the entire claims process from start to finish. The launch of Metromile Insurance Company was a major peak and next year, you can plan on seeing Metromile focus on building up their claims process.
And on top of offering reasonable car insurance, Metromile gives great advice. When asked what millennials should know when interested in starting their own startup, Metromile responded: "Surround yourself with people who challenge you to be better. Position yourself around these types of people right away. They should humble you and challenge you, steepening your learning curve as much as possible. Whatever you do, don't get bored or comfortable." And StarterNoise could not agree more!
Metromile is a pretty sweet startup and we are super excited to watch them grow over the next year. Think you'd give Metromile a try? Tweet @StarterNoise to let us know!

Katherine is a newbie to Denver. She recently completed her Masters in Peace and Justice Studies at the University of San Diego. When she isn't trying to save the world, Katherine is all about trying any and all delicious foods, hitting up the beach but not actually swimming (deathly afraid of sharks), and taking as many hikes as humanly possible.