The Further Future music festival kicked off outside of Las Vegas last weekend. Never heard of Further Future?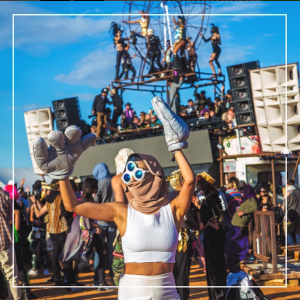 Think Burning Man plus yoga, mushroom coffee, and sound healing. Debuting last year, the second year of Further Future was a hit. 5,000 guests joined together for a complete body, mind, and soul experience – and we LOVED it! 
Why did we love it? Well, while other festivals focus only on music (not necessarily a bad thing), Further Future prides itself on offering guests with a total mindful experience including music, visionary speakers, meditation, and stimulating art.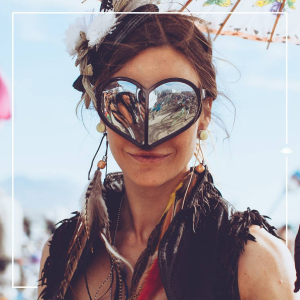 Festival entries start at $350, which is totally worth it. The base prices gives you the basics, but if you want fine dining and comfy accommodations, it'll cost you. We found that most attendees range from millionaire business moguls to Silicon Valley entrepreneurs – perfect for rubbing elbows, if you know what we mean.
Besides being a luxurious spin on other popular music festivals, Further Future offers an awesome line-up featuring dozens of up and coming artists and numerous wellness speakers who spoke on innovation, business, science, and art. This year we heard from Joann McPike, the founder of THINK Global School, who spoke on the future of education and how a global learning environment produces diversity, empathy, and inner reflection. We also hung out with Bob Pitman, currently the chairman and CEO of IHeartMedia, Inc., who spoke on the future of media and launching new ideas. Pitman's resume includes CEO of MTV Networks, AOL Networks, Six Flags Theme Parks, Quantum Media, Century 21 Real Estate, and Time Warner Enterprises. I think it's fair to say he had some great knowledge to share. Plus, Eric Schmidt, the executive chairman of Alphabet Inc., spoke on the future of the web. If you need web advice, Schmidt is the guy to talk to— his background at Google gives him some pretty tuned-in behind-the-scenes knowledge.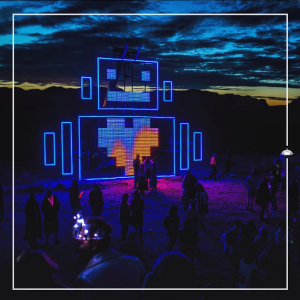 Speaking of getting in tune with innovation, the festival gave guests the opportunity to learn about new and exciting inventions including robotics and virtual reality technology – the stuff most people just catch in an online article.  
Cerebral engagement and auditory enjoyment wasn't all that #FF002 offered. With so many stimulating talks and innovations, Further Future made sure to make time for mindfulness by offering guests yoga classes, meditation, and a full service spa hidden in a tranquil space so guests could detox and recharge. Guests also had the option to stay in a variety of lodging options ranging from simple tents to luxurious campsites with glamping style amenities. This is what life should be like everyday 🙂
Tell us about your Further Future experience! Tweet @StarterNoise using #furtherfuture to let us know!
Photo Credit: Jacob Avanzato