Would you let artificial intelligence control the music you listened to? What if it could anticipate what you wanted to hear, adapt to your energy, and do both using real beats by real artists? 
Enter AiMi, the first music app that uses artificial intelligence combined with content from leading artists to create adaptive music experiences for electronic music fans. 
Using AI, AiMi creates a musical experience by playing music for you instead of at you.
Below is a look at the interface: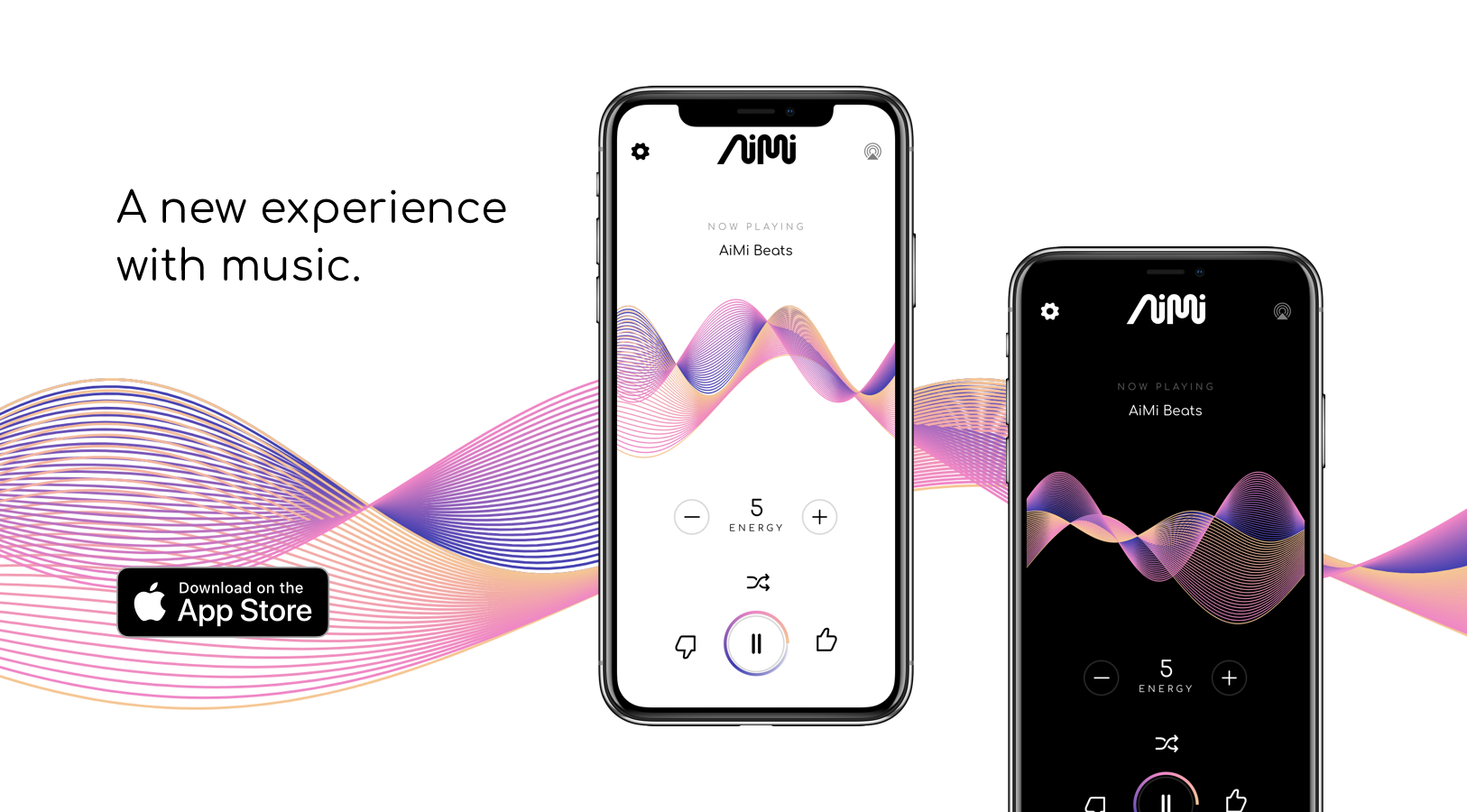 I had the opportunity to hold a Q&A with Edward Balassanian, CEO of AiMi, to get the inside scoop on AiMi's pioneering use of artificial intelligence in generative music.
Here's what I learned:

WHAT MOTIVATED YOU TO START AIMI?
I've always loved music and discovered what I call "long-form electronica" around 2009 when I had the opportunity to listen to DJs perform sets that lasted for hours. It was clear they treated music composition differently than composing a song. Rather, they focused on taking the audience on a journey for hours. The techniques they use to control the ebb and flow of energy, to keep the listener engaged, and to anticipate what's coming, are similar to the techniques AiMi uses.

WHAT IS YOUR VISION FOR AIMI?
We want to be a new medium for artists to create and monetize music- and for fans to consume music. We know there will always be a place for top hits, but AiMi is about creating listening experiences that transcend the notion of a song and instead allowing music to be part of the listener's experience – whether that's working out, studying, running, or enjoying a meal at a restaurant. 

WHAT PROBLEM ARE YOU SOLVING?
Making music is both a creative task and a tedious task. In electronica, artists create loops (the short segments of music that are combined to created sets), and then they use those loops to create tracks or to perform live. This composition and production step is time-consuming and tedious. The best DJs can do it on the fly when performing and reading a crowd. AiMi does much of the same. 
The music you hear is created live on your phone and it adapts the energy you choose (and soon to your environment). This means artists can take the loops they have created, package them for AiMi, and listeners can enjoy a composition that is created for them in real-time. 
For now, you have to tell AiMi the energy you want, but soon, AiMi will be smart and adapt the music it's creating by both explicit and implicit parameters, such as the time of day, your movement, location, or even the energy level in a bar or restaurant. Since AiMi creates the music in real-time, it can adapt in real-time based on virtually any goal (e.g. keep me running faster, help me focus, generate more sales per hour in a bar, etc.).

WHO ARE YOUR COMPETITORS AND WHAT STRATEGY HAVE YOU USED TO DISRUPT THEIR MARKET?
There are a number of AI music efforts underway. We think they miss the mark for several reasons. First, they seek to replace human creativity by trying to teach an AI how to mimic artists. And frankly, despite this goal, they have a long way to go to be listenable. 
Second, they are not designed to create music that adapts or is personalized. This is because these systems rely on an architecture that precludes being able to easily individualize or adapt the music they create to the listener. AiMi is different. We use loops created by our in-house artists (and soon through our artist marketplace) to create music that is generated on your phone in real-time. 
Our costs are substantially lower as we do not stream from a server, and, since we are generating the music on the device, we can adapt it in real-time as well. This means we can provide a level of personalization for music that sounds better and at costs that are orders of magnitude lower than the competition.

WHAT IS THAT ONE PIECE OF ADVICE THAT YOU WOULD SHARE WITH OTHER ENTREPRENEURS?
Starting a company is profoundly difficult. Building a company that stands the test of time is even harder. You need three things to succeed in my opinion. You have to be smart enough to understand where you are and where you want to be. You have to have the work ethic to get from where you are to where you want to go, and you have to have the perseverance to stick to it until your luck comes around. 
Luck is something entrepreneurs underestimate. You can't time luck. You can't buy luck. You can't script luck. But you can stick around until luck comes your way and your intelligence and work ethic will ensure you see it and take advantage of it. 

HOW HAS THE STARTUP INDUSTRY IMPACTED YOUR FAMILY/SOCIAL LIFE/RELATIONSHIPS?  HOW HAVE YOU CHANGED AS A RESULT? HAVE YOU BECOME MORE COGNIZANT OF THE QUALITY OF LIFE NEEDS OF YOUR EMPLOYEES?
I've been a startup entrepreneur since I was 25, so it's no different for me. For my partners, I stress one thing above all else: for this startup to succeed, it needs to be one of the most important things in your life. If you can't commit to that degree, it's not worth putting yourself or your colleagues through the trials and tribulations of being in a startup.

IF YOU SOLD AIMI TODAY, WHAT WOULD THE CONVERSATION BE? WHAT WOULD YOU WANT TO GAIN? WHAT WOULD YOU WANT TO AVOID LOSING?
We are building AiMi to create a company that can stand the test of time. I can't imagine a scenario today that would make selling it something that's consistent with our vision for the company or our personal goals in dedicating so much of our lives to this. 

WHAT HAVE YOUR FAILURES BEEN AND HOW HAVE YOU OVERCOME THEM?
I've started close to a dozen companies and have had enough success that I can start and fund new ideas. But I have yet to create a company that stands the test of time. To me, this is the ultimate measure of success as an entrepreneur and something I will continue to commit myself towards.

HOW HAS COVID-19 AFFECTED YOUR BUSINESS?
Like most, it was chaotic to begin with. But having been through 9/11 and 2008, I knew that in every drastic market change like this, there are also new opportunities. For us, this was especially true. 
The pandemic and social distancing have changed the way artists monetize their content. Tours have been canceled around the world. Artists are now back in their studios creating amazing content. That same content can be used by AiMi to create beautiful musical experiences that fans will love an artist can monetize. 
The pandemic made us realize we had to accelerate the release of our artist marketplace which we are focusing on making happen as quickly as possible. We've already signed numerous world-class artists to the platform and plan to accelerate those efforts.

FROM WHERE DOES AIMI SOURCE MUSIC/BEATS?
Our in-house musicians create fresh beats for us weekly that we release to all our users. Later this summer we will announce the artist marketplace so users can listen to their favorite artist's beats.

ARE THERE ANY EXCITING NEW FEATURES IN THE WORKS FOR AIMI'S NEAR FUTURE?
We plan to take the personalization of the music AiMi creates to the next level. This in conjunction with the artist marketplace means AiMi will play music for you instead of at you.
CAN AIMI SENSE ROOM VOLUME AND ADAPT ACCORDINGLY?
Since AiMi is making music in real-time, any environmental parameter could be used to adjust the compositions. Imagine, for example, having AiMi adjust the music energy to keep the volume level in restaurant low (or high) or having AiMi train itself to make music that drives higher sales per hour in a department store.

In an interview with John Koetsier, you explain that you're around producers often and that the tedious part is arranging the music, and that the creative part is coming up with the little bits and pieces. Have any artists expressed this as a negative? Or is it more widely viewed as a solution to increase the creativity of their own music creation/music experience?
The reception we have had with artists has been phenomenal. We are thanked for respecting and empowering (rather than displacing) human creativity. Universally, the artists we've spoken to understand that we're embracing artists and have given them a new medium for expressing their creative talents.

You recently announced an artist marketplace in which artist packs can be created for the AI to use and inform the generated music. How do those conversations with artists go? Are they hesitant to engage in something so new, or is it something the creative world is keener to jump into?
I think partly due to the pandemic and partly due to the fact that the music industry has been largely stagnant in terms of innovation, we are being received much better than we could have hoped for. We encourage any artists who would be interested in working with us to reach out to us at artists@aimi.fm.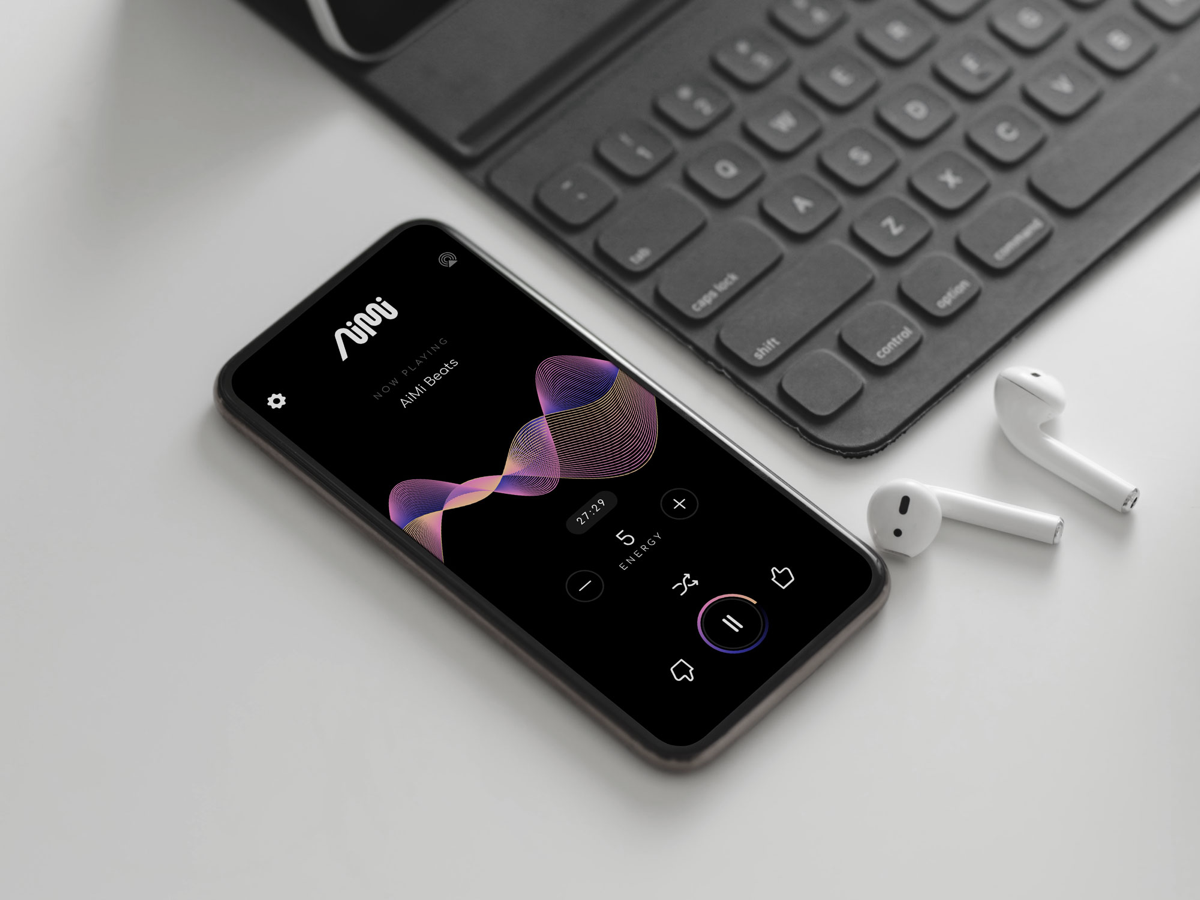 AiMi is unlike any music app that listeners use.
The platform creates a music experience attracting fans, while simultaneously giving artists the chance to provide a new tool for creative expression. And thanks to the unique sourcing of artists and the corresponding use of AI, AiMi can provide listeners with hours of listening pleasure. I think it's safe to say that AI just might be the next big DJ. 
Learn more about how AiMi is changing the future of music by visiting their website or downloading the app, which can be used for 30 minutes per day free, but beyond that, you need a subscription – US$5.99 per month.