Many of us live in large, metropolitan cities that are crowded with apartment complexes and townhouses. How many of us actually know our neighbors though? I can say for certain that I know a whopping three people who live in my building of nearly 500 residents. Long gone are the days when you could run over to your neighbor's place for a cup of sugar. Who even knows who they live next to anymore?
But what if I was about to tell you that a young group of students from Harvard University were trying to change this? What if they were working to connect neighbors to help each other out in times of need? Crazy, right? Wrong, these students have hit the jackpot and are changing the way we view our neighborhoods.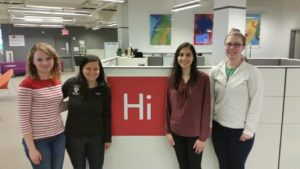 Launching this April, NeighborGood connects chronically ill and/or disabled individuals with neighbors to help with home tasks and errands. The inspiration for NeighborGood was born in the Harvard Innovation Lab by two MBA students at the Harvard Business School, Niha Jain and Kristina Hristova, one Harvard College undergrad student, Kayla Oakley, and one Harvard College alumna, Zoe Savitsky.
The CEO and Founder of NeighborGood, Niha Jain, explained that the inspiration for the brand new startup comes from: "our own individual experiences with health issues and those of family and friends. Our team believes we can do much more to support chronically ill and/or disabled individuals. We see a greater role for neighbors to support each other, and we believe enabling such connections can help to build healthier, happier, and more inclusive communities."
So how exactly does NeighborGood work? Well if you're interested in volunteering to help a neighbor in need, NeighborGood will set up a brief Skype interview so the team can best pair you with a neighbor based on both parties' availability, location, and type of help needed/offered. What an awesome, socially innovative idea to connect community members together—the StarterNoise team is totally digging this.
We wanted to know what it's like to be a part of the NeighborGood team. Jain told us: "our team consists of individuals who are passionate, driven, and hard-working. This has led to a culture that is empathetic, collaborative and consensus-driven, and fast-moving. We believe in the philosophy of the lean startup and are constantly testing and iterating on new ideas to try to create the best possible service. Our empathy extends not just to our customers but also to one another. When we're together as team, we have a ball!" Sounds like a great startup to be a part of. In fact, they all agreed that if NeighborGood had a theme song, it would be "Forever Young" by Rod Stewart.
For all you millennials out there looking to start a socially conscious startup, Kayla Oakley, Co-Founder and Chief Marketing Officer of NeighborGood, had some great words to share: "Don't be afraid to not know where your startup is headed from the get-go. You will have to do a lot of refining and get a lot of help along the way!" Awesome advice, StarterNoise couldn't agree more.
Would you give NeighborGood a try? Tweet @StarterNoise to let us know.

Katherine is a newbie to Denver. She recently completed her Masters in Peace and Justice Studies at the University of San Diego. When she isn't trying to save the world, Katherine is all about trying any and all delicious foods, hitting up the beach but not actually swimming (deathly afraid of sharks), and taking as many hikes as humanly possible.