My apologies to all the vegans and vegetarians out there, but have you ever bitten into a mouth-watering piece of meat? Better yet, ever tried some Perky Jerky? If you have, I know you can totally relate to how amazing, fresh, and healthy their product is. And if you haven't, drop everything right now, run to the nearest grocery store, and buy some Perky Jerky … you will not regret it. I repeat. You. Will. Not. Regret. It.
Thanks to the clever genius of Brian Levin, we are all #blessed with some tasty jerky. So how'd this amazing concept come to be? Well, while skiing down Snowbird Mountain in Park City, Utah, Brian and some Jerk came up with the concept of fusing jerky with some pretty wicked flavors that make your taste buds rejoice and your energy levels soar.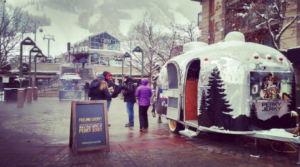 One of our fabulous founders here at StarterNoise, Sarah Koebel, was able to enjoy a margarita with Brian and learn a little more about his innovative idea and life as an entrepreneur. Shortly after graduating college, Brian landed a job with Jägermeister—which he says, "I owe everything that I have today to Jäger." In fact, when asked which flavors of Perky Jerky pair best with Jäger, Brian tooted, "all of them, duh!" Just to top off his love for Jäger, Brian was sure to note that Perky Jerky's AirStream trailer is always fully stocked with plenty of Perky Jerky and Jäger. 
After his rad career with Jäger, Brian started working for a software company that made voting over the phone for your … drumroll … favorite American Idol contestant possible. Remember the good ole' days when you would have to call or text-in to vote? Yeah, thank Brian for that! His all-time favorite American Idol contestant is Justin Guarini (runner-up to Kelly Clarkson) … who can't fall in love with those curls?!
So what makes Perky Jerky so insanely successful? Well for starters, they have created an amazing work culture that keeps their employees extremely happy. By providing full benefits, unlimited vacation days, and a fully stocked kitchen of Perky Jerky, what's not to love?? Likewise, the flavor is pure and true to the ingredients that make it taste so delicious. Perky Jerky is a healthy alternative to other jerky brands and uses only grass-fed cows for their meat.
Don't think eating Perky Jerky is just for super classy grocery store shoppers. They also donate a portion of their earnings to Duchenne Muscular Dystrophy and Down Syndrome research. So you can feel even better as you bite into that mouthwatering piece of meat.
As Sarah wrapped up her conversation with Brian, she wanted to know what advice he would give young entrepreneurs looking to launch their own startups. Brace yourself, because this is some pretty wicked advice: "Have enough balls to take risks and enough grace if you've taken the wrong risks."
We thank Brian for the awesome conversation and would love to keep the chatter going about Perky Jerky. Tweet @StarterNoise to let us know your thoughts about Perky Jerky!

Katherine is a newbie to Denver. She recently completed her Masters in Peace and Justice Studies at the University of San Diego. When she isn't trying to save the world, Katherine is all about trying any and all delicious foods, hitting up the beach but not actually swimming (deathly afraid of sharks), and taking as many hikes as humanly possible.