Want to get more out of seeing your favorite band at your favorite venue? Gemio is producing the tech that will take you there . . .
The most promising concert/party tech involves synchronization – lights and sound and atmosphere all integrated for triple the enjoyment. While some companies play with apps, the folks working on Gemio are bringing it to a connected, social, customizable wearable.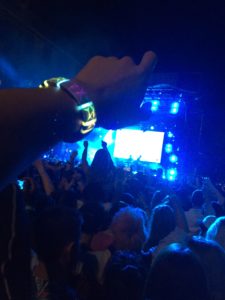 Gemio takes a customizable bracelet (you can swap out tiles to get different looks) and uses it to connect you to the event you are attending, and your friends. The Light Effects of the bracelet include millions of colors that "respond to music, movement and the people around you." The connected app (see video) makes it possible to send messages to friends that they, too, can see on their Gemio bracelet.
You know those glow-in-the-dark bracelets they try to hock at shows? Those are like travelling in a covered wagon across the Rocky Mountains while fighting dysentery while Gemio is taking a Dreamliner to Paris eating Lox.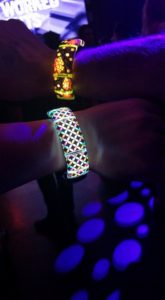 Wearables are becoming more about getting us away from screens and back into the environment – wherever we are. Instead of stopping the dance party to text your friend who can't see you in the crowd, you send a light signal. When you meet up with your crowd, your bracelet responds and you can even connect to the cute guy or gal you met on the floor.
As Gemio helps you connect with each other, it also connects you with the show. The lights on the band respond to the music, integrating you into the celebration without losing your own style.
Gemio launched a Kickstarter to raise $50,000 for production of this sweet wearable. With 24 days to go, they have already seen $82,202 pledged (as of this writing). I suspect that we won't be bringing lighters or using the flashlight on our cell-phones at shows much longer. Time to put some tech in with your concert gear.
How do you connect with your favorite musicians and artists? Talk to us at @StarterNoise.