Earlier today, at about 11:40 EST, The President of the United States gave an address about gun violence. This might not seem like an entrepreneur's news, but if you listen closely you will find more than a few big ideas – the kind that most entrepreneurs dream about – that need someone visionary and brave behind them.
"We need to develop new technologies that make guns safer," said The President, "If we can set it up so you can't unlock your phone unless you've got the right fingerprint, why can't we do the same thing for our guns?"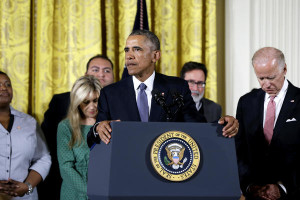 From "Smart Gun" technology to improving the background check system that is in place when someone desires to purchase a gun, there is massive room for improvement and innovation. Gun violence at the level we witness and experience is distinct to America. No other advanced nation deals with the same multitude of gun deaths, accidents, violent crimes or mass shootings. No. Other. Advanced. Nation.
Gun Violence has become a partisan issue – but technology and innovation could be the bridging factor and entrepreneurs have solved difficult problems before. Huge impact is as simple as coming up with ways to reduce the number of accidents that happen every year, ways to make guns safer to handle and ways to track who has them. A system like Apple uses to find your lost phone or iPad extended to firearms could be a game changer.
"If a child can't open a bottle of aspirin, we should make sure they can't pull a trigger on a gun," said President Obama. Seems reasonable to me. Let's make this era of gun violence a thing of the past thanks to innovative thinking and technological advancement. There are probably more than a few organizations that would get behind funding a great move in the right direction.
Who is taking on the gun violence epidemic and tackling it with the entrepreneurial spirit that will change the game? Talk to us @StarterNoise #SmartGun