We all know how impressive Google, Facebook, and Amazon are in general, and their office spaces are pretty much just, if not more, impressive. From state-of-the-art gyms to chef-prepared meals, these startup offices know how to take care of their employees. But what if you're not some major company with the funds to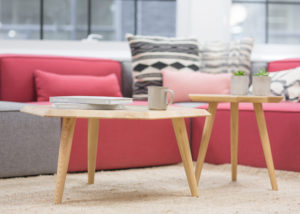 support an "over the top" interior design budget? Have no fear, there are always reasonable and trendy ways to spruce up your office and make your employees feel on top of the world.
It's important when starting out that your workspace is flexible and has the potential to adapt to your startup's demands. What your startup looks like at day 1 can change drastically when compared to day 100. Allowing your office space to grow with your company will save you time and money because moving to a larger office space every time you have a new round of hires is less than ideal.
We all know how busy running a startup is … any given day, you have a million tasks on your plate with time to accomplish only half of them. It may seem daunting to add another task to your list but take a few seconds every day and observe your team. Where in the office are they flocking? Do they like the break room or sofas? Are they asking if they can work from home? Do they prefer to do their work from a nearby coffee shop? Paying attention to all of these things can help you best decide what works and where you should invest a little bit of cash to make your team more comfortable at work.
Offering each employee a comfy desk area is a first priority. Everyone needs to feel that he or she has a special spot in the office. Dual function desks, like the Uplift desk, allow you to sit or stand whenever you want—giving your team the flexibility to stretch or recline super easily. And that comes with a great desk? An even greater chair … So make sure your chairs have adjusting features so each member of your team can feel comfortable.
Another super important aspect to any office is the common space. This area will be a shared space for you and your team. You'll want to make sure everyone feels welcome and relaxed when having group meetings or taking a 5-minute break. So grab some comfy couches, a conference table, and warm lighting. An inclusive common space will encourage everyone to collaborate on projects and share ideas.
Some other great office decorating ideas include using bright colors to promote creativity, flowers or small plants to bring nature in, and plenty of natural/ warm light to keep your team invigorated. Overall, your team should be inspired while at work—let them tell you what they want and work with them to create an office space that makes them excited to come to work every day.
Have any other ideas for making your startup space fun? Tweet @StarterNoise.

Derek Rundell, is a successful business leader, operator, and serial entrepreneur. Derek has founded, managed and sold businesses in the technology, media and finance industries. He sits on several boards and serves as an advisor/investor to numerous established businesses and startups. Startups are Derek's real passion, and in addition to building his own portfolio of technology, media and financial ventures, he invests in and mentors startups and entrepreneurs. He is passionate about sharing his knowledge and helping other businesses succeed.