If you've been wanting to get in on the smartwatch trend but you're not too keen on the techy look, you're going to want to read on.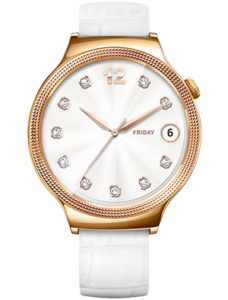 Earlier this year, Chinese handset maker Huawei released a pair of fashion-forward smartwatches into the U.S. market. The watches, officially named Elegant and Jewel, feature a lot more upgrades than just Google's Android Wear operating system.
Bling Bling, Baby
If you enjoy a bit of shine and sparkle in your day, you'll probably love the fact that the Jewel model is  practically dripping with high-end zirconia crystals. Right now you might be thinking to yourself, "Wait a minute—diamonds would be much better!" However, the device is already pricy, compared to other smartwatches; I don't even want to think about how much it would cost if legit crystalline carbon was involved.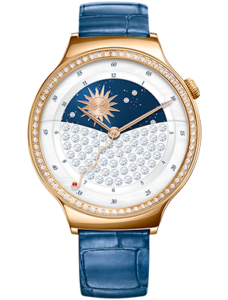 If you're a zirconia snob, you'll be pleased to know that the watch features actual Swarovski crystals. (Not to mention a pretty solarscape in the background.) Just be ready to fork over an additional Benjamin—this model is $599, while the other is $499.
Pretty In Pink
One commonality the watches share is a rose gold-plated stainless-steel case surrounding the watch components. If you don't like pink, it seems you're out of luck.
Mamma Mia!
While vegans will be disheartened by this fact, fans of top-of-the-line leatherwear will be happy to hear that both watches feature Italian leather straps. The Jewel watch has a blue strap, while its Elegant counterpart's strap is white.  
What are your thoughts on blingy smartwatches? Let us know on Twitter @starternoise.