Lingerie was once a taboo subject, an item seen only in the bedrooms of wedded couples, and still barely acceptable. As the style of women's underwear evolved and women's liberation took over, seeing the scantly clad female form has become more normal and expected in everything from advertisements to entertainment.
This de-evolution of the taboo is being interrupted by a clever and intriguing disruption in lingerie selling – panties with a purpose. Not only are new businesses offering quality products, they are pairing purchasing with a larger mission and connecting women across the globe for united advancement.
Opportunities for women around the globe can be scarce. Females in many countries struggle to find meaningful and prosperous employment, if they are even allowed to work. Young women cannot attend classes consistently because they lack access to options during their periods. From a young age, a woman's potential is interrupted because she is hindered from being able to dedicate herself fully to her studies or her employment.
"Twelve to fourteen year old girls are seen as ready for marriage and childbearing when they stay home from school repetitively due to lack of sanitary supplies," says Christina Norman, founder of You & Her in Vancouver, B.C. The profits from her company provide underwear to girls in Africa who are past puberty in order to help them stay in school. This opportunity for continued education has been shown to delay when she first has sex as well as when she has her first child, both of which contribute to better survival rates for her children. The additional years of education she is provided, simply because she had underwear as a young teenager, will also increase her earning potential and ability to provide for her family.
In addition to providing great looking lingerie, You & Hear combines everything they do with a powerful message to women – You are worth it.
You & Her is not alone in their quest to help eliminate the hindrances that women experience. The start-up company Thinx has designed a panty that is able to help women all over the world by incorporating hygiene directly into the underwear. The underwear comes designed for light to heavy flow days and, they claim, might even replace other go-to products during the month. Not only are they providing this product to women everywhere, they partnered with a family run factory in Sri Lanka to empower women there through business opportunity and leadership training.
Not to leave the guys out, check out the Thinx Instagram account where they have published a 28 video series of men talking about MENstration. It's a gem!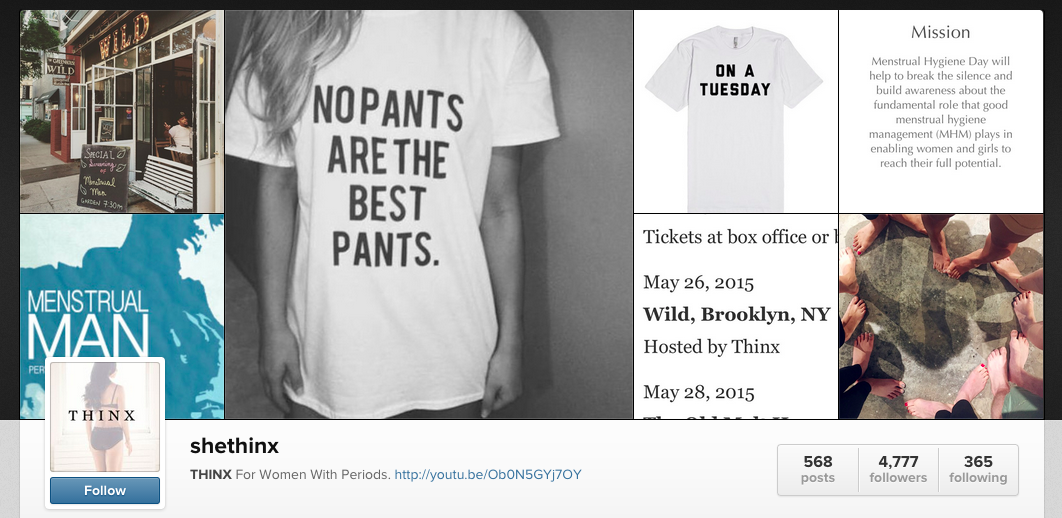 The once off-limits topics of women's underwear and her body's natural rhythm have become a powerful way to improve women's lives around the world. This sisterly partnership raises women up, provides them opportunity, and increases the well being of everyone as having educated, healthy women is great for communities.
Do you see more ways that every day items could help improve people's lives? Share your finds or ideas with @StarterNoise using #PantieswithaPurpose