Eyefi has made a name for itself in the digital photography space, providing photographers with Wi-Fi SD cards and easy wireless transfer of photos to computers. With Wi-Fi appearing in more and more cameras as as a built-in feature, though, Eyefi is currently looking for ways to diversify and shift gears slightly.
On November 12th, Eyefi announced its acquisition of the mobile app OKDOTHIS. This app was founded by renowned photographer Jeremy Cowart, who is also the founder of See University, an online photography course. Recognized as the "Most Influential Photographer on the Internet" by Huffington Post, Jeremy has taken photos of celebrities such as Taylor Swift, Carrie Underwood, and Tim Tebow.
"When I meet photographers around the world, one common theme emerges: exploring new ideas to evolve their skills and get more enjoyment and satisfaction from their photography," said Jeremy Cowart in Eyefi's press release. "Being a part of Eyefi means we can scale this idea and bring OKDOTHIS to photographers everywhere."
The concept of OKDOTHIS was to be an catalyst for inspiration to photographers. App users can share words and phrases, then capture unique images based off those ideas. The end goal was to make photographers think outside the box instead of going to the cliché images that abound on social media. Who really wants to see another latte picture or back of someone's head staring out into a misty forest?
OKDOTHIS sought to change all this by providing a photographer with a daily "DO": an idea, suggestion, or challenge. Examples of DOs include "Explain how people interact with spaces" and "Weird things people do while in traffic."
Because of Cowart's huge influence within the creative community, OKDOTHIS grew fast, although it never gained enormous success. Over the past year, little has been heard from the app. According to this article, Maybe this was the case because of Aloompa and Cowart searching for a buyer.
While the acquisition might seem a odd pairing–given the fact that Eyefi has focused on the mechanics of photography–this could be a truly positive step in a diversified direction for them. Helping cultivate more creativity within a company's portfolio could truly draw in a larger audience for their products, as well as giving OKDOTHIS a way to expand its growth potential.
Eyefi certainly seems excited. "We are delighted that the OKDOTHIS team has joined Eyefi," said Matt DiMaria, CEO of Eyefi, in the press release. "Eyefi has always focused on helping photographers be more productive so they can focus on creativity. With OKDOTHIS, we're adding the power of social interaction and engagement among photographers to inspire them to challenge and learn from each other."
Details of the acquisition and what that means moving forward have not been released to the public.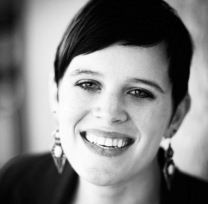 After working in publishing at Penguin Random House, Teryn O'Brien went the entrepreneurial route and launched her own business to help organizations and individuals tell their stories through photography, writing, video, and online marketing strategy. Teryn enjoys exploring the startup & entrepreneurial world, mentoring writers & storytellers, and speaking out against injustice in all its forms. She spends her free time hiking Colorado, writing books, and drinking too much tea.