Be in an animated movie with Avril Lavigne. Hang out with Kristen Bell and Don Cheadle on the House of Lies set. Wish your favorite bands and celebrities Happy Birthday.
Change the world.
While it might not seem like these experiences connect in any way, a startup charity platform called Chideo—which comes from mixing the words charity and video—is hoping to raise money for good causes and nonprofits by using the huge platforms of celebrities.
According to Todd Wagner, founder of Chideo and business partner to Mark Cuban for the past 19 years, the celebrities Chideo has already enlisted have a social media reach of about 250 million people. There have already been more than 100 VIP participants—including YouTube sensations like Ricky Dillon, Oscar winners like Jennifer Lawrence, and famous musicians and sports stars.
Chideo was born out of Wagner's eye-opening experience of hosting a fundraiser in 2012 for After-School All-Stars, the Kipp Charter Schools and the Boys & Girls Clubs. Although the even raised $1.1 million dollars, it was only because Wagner's foundation helped underwrite the expenses for hosting the fundraiser. Wagner realized just how little money actually goes to charities when throwing events and fundraisers.
There is vast potential to use the internet to raise money for causes. Right now, though, online donations only make up eight percent of total contributions, according to Wagner. Chideo's goal is to tap into that enormous potential, garnering at least six media partners within the next year to help get Chideo's causes out to the greatest audience possible. Wagner eventually hopes to create a 'Cause Network' similar to any network television channel.
After signing up on Chideo's website, you can search for celebrities you care about or causes you are passionate about. You can follow celebrities and causes for updates. You can donate to get exclusive goodies and chances to win prizes–like going on a dinner date with your favorite celebrity. You can also subscribe to channels that feature tailored video content like RYOT, a site that "links every story to an action, empowering you to become the news." It even has a channel for Entrepreneurs, featuring tips from the likes of Mark Cuban.
Chideo is hoping to simplify the process for celebrities to showcase causes that are near and dear to their hearts. It's also hoping to simplify the process of how everyday people can contribute money to great charities around the world. They acquired a celebrity digital fundraising platform Prizeo in May to help them further that goal of ease and accessibility.
The charities receive 80 cents of every dollar raised, while Chideo gets 20 cents to build, operate, and promote. As far as businesses go, giving 80 percent of its revenue away is pretty risky, but Wagner believes that for him, it's time to give back.
What celebrities and causes do you follow? Let us know @StarterNoise using #GiveBack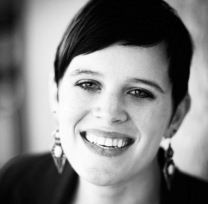 After working in publishing at Penguin Random House, Teryn O'Brien went the entrepreneurial route and launched her own business to help organizations and individuals tell their stories through photography, writing, video, and online marketing strategy. Teryn enjoys exploring the startup & entrepreneurial world, mentoring writers & storytellers, and speaking out against injustice in all its forms. She spends her free time hiking Colorado, writing books, and drinking too much tea.