Thanks to the truly genius idea of two female entrepreneurs, women in Seattle will have the opportunity to collaborate in a women's-only co-working space. Co-working spaces are nothing new; in fact, they are in every major city. They allow entrepreneurs and startups to work alongside their peers in a collaborative, relaxed setting. But very few women's-only co-working spaces exist, and Seattle is about to get its first—The Riveter.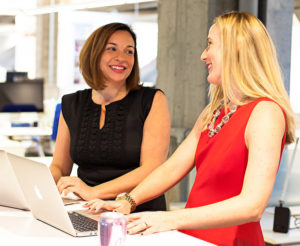 Founded by Amy Nelson and Kim Peltola, The Riveter will provide women with a community that supports and bolsters women entrepreneurs. As their website states: "Welcome to a place where women of every generation and talent define their own success. Welcome to a space for mindful action, where the trail of shattered glass shines brighter every day. Welcome to The Riveter."
So what inspired these two 'womenpreneurs' to launch The Riveter? For starters, Nelson, a former Wall Street lawyer, and Peltola, a former social worker, decided to pivot their careers into the startup world. The two met at a fitness challenge and quickly bonded over their new roles as mothers. Both realized that while devoting themselves to high-stress careers, they needed a support system of other like-minded women to work alongside in a comfortable, accepting space. And whala! The Riveter was born.
And this co-working space isn't just a building with a bunch of tables and chairs—The Riveter is dedicated to providing women with a total mind, body, and soul workspace. What does that mean? Well, every morning, afternoon, and evening you can expect to see a relaxing yoga class taking place. Namaste. Oh and the best part? Yummy and delicious food will be for sale so you can keep your nutrition in check.
I don't know about you, but I would totally be down to check out The Riveter. Would you? Tweet @StarterNoise.

Katherine is a newbie to Denver. She recently completed her Masters in Peace and Justice Studies at the University of San Diego. When she isn't trying to save the world, Katherine is all about trying any and all delicious foods, hitting up the beach but not actually swimming (deathly afraid of sharks), and taking as many hikes as humanly possible.