You've heard of the Bieber Bomb and the Adele Attack, but what about a holiday-centric, over-the-top, easy-as-pie prank you can use to show your family and friends that you are thinking of them this season? Introducing the Santa Slam . . .
From the same makers as the Bieber Bomb and Adele Attack, the premise is this: You pay a measly $1 or $2 and then an anonymous, automated text message series gets sent to the recipient of your choice. The extra dollar in cost gets you a copy of the texts that are sent out so you know exactly what your chosen loved one is receiving. Santa Slam is classic holiday lyrics from an unknown number that will leave someone you know confused and potentially frustrated. What a great gift!
I decided to Santa Slam my boyfriend to see what would happen. In classic fashion, his super-literal style played right into the Slam.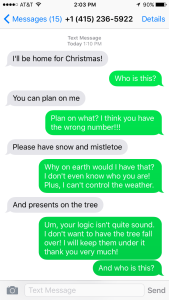 It may be one of the best ways you can spend 2 bucks this holiday season, but don't procrastinate. Santa Slam was just released and you don't want your recipient to know what is happening when they start getting their text messages.
Share your fun and follow the best responses by searching the hashtag #SantaSlam on your favorite social networking site.