We use our phones for EVERYTHING, especially taking photos and video to share with friends and family. But, it isn't always easy and Josh Holder of Denver, CO is trying to fix that.
In a recently launched Kickstarter campaign, Holder explains the benefits of The Show Off – a magnetic addition to your cellular phone that allows you to mount the phone anywhere metal, paired with a bluetooth device that you can use to start and stop the video and take pictures.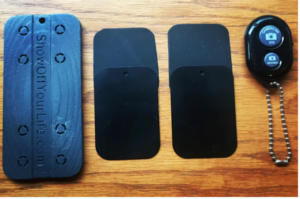 On the campaign page Holder explains that the phone becoming mountable means it can turn into a body camera like a Go-Pro, record an adventure video, even become a dash cam. With your photo and video capabilities more versatile, your phone does next level videography. But it can mount facing you so you can see things that are hard to see normally, like your GPS.
No more driving around trying to look at directions while your phone slides across the dashboard of the car. No more propping it up in front of you while you FaceTime with your mom. No more cursing your short arms for not being able to get everyone in the picture. No more wishing you could video all the people on the boat at the same time without standing there behind the camera, missing out on the fun!
Holder focuses on selfies and documenting adventure, but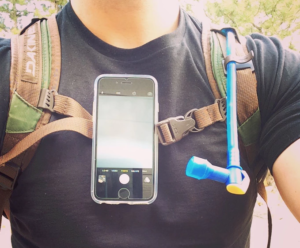 there are some uses for The Show Off that might prove valuable to some – Mounting a camera to your car when you get pulled over, connecting it to your body when walk into a political debate, or documenting a sketchy first date all come to mind. The Show Off may be marketed as a personal camera attachment, but it might just be a safety device, too.
Sometimes the simplest things become the most well-received convenience products. What do you think? Is the The Show Off going to improve the way we handle our devices? Talk to us @StarterNoise