My boyfriend and I are attempting to convert our useless grass yard into an oasis of food, flowers, herbs and medicinal plants that actually serve a purpose. It's an act of turning our backs on the Joneses because as our grass wilts in the Colorado summer heat, we see giant pumpkin leaves bloom and harvest ripe red strawberries right in the front yard – while the neighbors walk by and ask what the hell we are doing and openly tell us it doesn't look as good as they wish it did.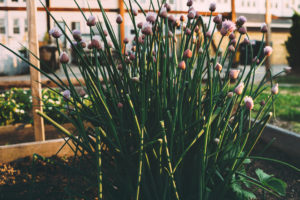 I love the idea of making fresh meals with the things I grow right outside, but it is also really hard work. There is a lot to understand, water to monitor, heat and sunlight to work with – or against. It is a financial investment that is not guaranteed to return anything at all. (And the neighbors are watching. No pressure.) One of our beds filled with seeds has barely sprung a single cilantro or arugula plant, we apparently killed off the peas unintentionally – no idea how or why – and while the tomato plants grow upward they don't actually look like they are going to produce tomatoes.
The frustrations associated with home-gardening are why I started researching a new, open source technology that might make growing your own food a more investment-worthy option for (some) people.
FarmBot combines the science of growing food with the technology of robotics and the control of open source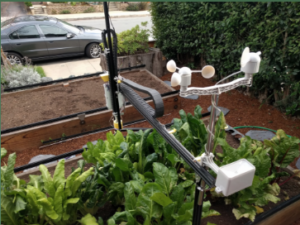 customization (for those willing to figure it out). They call it "Humanity's first open-source CNC farming machine." It is a response to the destructive agro-business system that is so bad for the ecosystem – the same one that drives people to plant their own food, or buy organic, or support local farms through farmer's markets.
What FarmBot proclaims to do is pretty amazing – seeding, watering, monitoring soil, even weeding – all controlled by a web-based interface that allows you to tell the robot where to plant which seed and automatically adjusts watering based on the plant and weather conditions.
As someone who has fought drip systems, timers, soaker hoses and hail, it seems pretty dreamy.
The catch – like all new tech releases – is that it costs a pretty penny. For the month of July, as they are manufacturing the FarmBot, the pre-order sits at $2,900. The raised beds, soil, seeds, utility bill, time and effort aren't included. What is included is every CAD drawing, help from the open source community, and potential spanning all the way to utilizing solar power and captured rain. Plus the food you would be able to eat. I am swooning and locking up my wallet all at the same time. (If anyone knows how I can get one of these without dropping almost 3K, please let me know. I will trade you fresh produce.)
FarmBot shows more than just what tech can do to small-scale farming operations. After all, the big guys have been using machines for a long time – which has created both problems and efficiencies in the food system. The release of things like FarmBot show that the personal garden, a raised bed or some containers and a few seeds hold power to people these days.  Innovations in the food industry are sprouting up all over, pun intended. These innovations are directed at the DIY foodie like myself and the community garden organizer, small farm owner, farmer's market goer, and anyone wanting to do their part to support a shift in our food system. There is a market here, that is for sure, and as far as I am concerned, innovations that make it easier and more likely to succeed are good things to launch.
Now if someone can make a robot that will also feed my chickens, that'd be awesome.
Would using the #FarmBot, or similar technology, encourage you to plant and grow your own food? Or is this niche market not really your thing? Let us know your thoughts on Twitter by talking to @StarterNoise
(Want to see the FarmBot in action? Check out this YouTube vid)