My sister and I just opened up an Etsy shop. (Trendy, we know)
The process of doing so wasn't what I expected – some things are a lot more difficult and some way easier than I expected. Here is some insider knowledge on getting your handcrafted storefront up and running.
First of all, you should know I am already an entrepreneur. I didn't go into Etsy blind to what it takes to run a business. No business is magic – they all take work and planning, strategy and time. Etsy is no different. Posting products online doesn't automatically get you found and the cutest tea towels you ever saw won't make you an eCommerce success.
What Etsy Is:
A platform for selling handmade goods to people who love unique, inspired, vintage, upcycled, creative, handmade, crafty, DIY products.
What Etsy Isn't:
A magic retail bullet that will bring you thousands of dollars in income with zero effort.
The Storefront of Success
What surprised me most about Etsy were all the tools they offer their sellers so they can be a success. A free webpage on their site (ours is www.etsy.com/shop/RootedNomads), included analytics and stats so you can see which products are getting traction, lots of listing tips, a photo style guide, encouragement and a great community. It took very little time to set up the storefront once we were ready. Much, much, much less time than it did to create the first round of products that were going to be posted. Much. Less. Time.
Rescued Materials Resurrected into Something New
Which brings me to surprise number two – the amount of time it took to create our product line. A few months ago my sister and I had a great idea to bring some of the household items we really love to others. We brainstormed a few simple things to start – items that used rescued materials resurrected into something new. What we didn't count on is how much life gets in the way of creating a sellable product line. Busyness, rest, work, kids, events, holidays . . . time passed very quickly between our first brainstorm and our actual launch. Not to mention, we live over an hour apart and each item had to pass between both our hands to be assembled. Not. Efficient. Though, admittedly more efficient than opening an actual storefront.
So, it took longer to get products ready to launch than we expected. Not to be deterred, we trudged forward.
The Finer Details and Finishing Touches
The day before our launch I ran into a local craft store and pulled together some of the finer details so we would be ready to sell – cute tags and hemp string to wrap around linens, a dye-cutter and natural paper to use as Thank You notes for each order, some tools to make producing easier and more efficient, etc. Selling online isn't just a product – it is creating an experience that others will love having and return to have again! So I had to create an experience without being sure anything would sell . . .
TIP: Use coupons! No kidding! Cut your initial operating expenses as much as possible. Make it so your overhead is as low as possible. Beg and borrow, buy used and buy cheap, remove the stress of having to make up for an initial investment.
Since my boyfriend is an excellent photographer with a range of fancy photography stuff the pictures were fun. We tried different settings and looks for our first products and it was exciting to see the end result. TIP: Use the people you know to help you out. Just buy them a beer or something.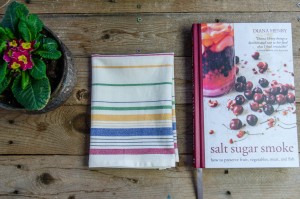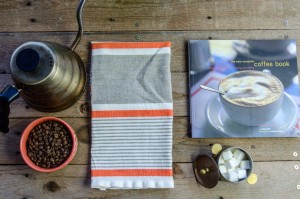 Getting Socialized
Knowing that no one was going to find our little shop without a push, I started some social media accounts and got to posting and connecting with people, shops and makers that may like our cute little product line. This brings me to the next surprise- the support has been lovely! On our first day we had a lot of people visit our shop just from our newly created Instagram account and a small Facebook push through my personal account. It was awesome to get some comments right away, have people start favoriting our Etsy store and watch as our little graph of visitors climbed throughout the first few hours of day one. It was momentum! It felt great. TIP: Be nice! Everyone is fighting some kind of battle. Lend support to get support. Consider Karma.
Here are a few more little nuggets of advice I found from other Etsy makers and sellers:
Update often
Keep creating
Don't get discouraged
Give it time
Make things you love
Perfect your skills
Have fun
It is only hour six of my attempt to build an Etsy Empire . . . okay, maybe my sights are set on an Etsy Kingdom – slightly smaller and more manageable than an Empire . . . but I am inspired by what is at our fingertips. Plus, I love our products so much that if they don't sell I will gladly use them in my own home, everyday! But, seriously, feel free to go buy some stuff so I can make more . . .
Do you sell or buy on Etsy? Have some advice to offer? Talk to us @StarterNoise