The one week mark of the New Year has hit and you've totally kept that resolution to exercise daily… right?  Wrong? It's cool, we've all been there. I mean it's hard to listen to that voice in your head saying  "c'mon! Go workout!" and even harder to ignore that other voice saying, "mm…no…"
Thankfully there are people out there that feel this pain too and they decided to do something about it.  They figured out that doing things alone, like staying motivated to workout, is not easy.  So, these two guys created a non-creepy way of helping you find a fitness buddy, you know, so that you have someone there to keep you in line when you're thinking about skipping out on your fitness plans.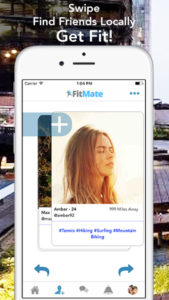 It's called FitMate Social and it's an app that helps you meet fellow workout enthusiasts in your area.  The creator, Luke McKey, started the app because he likes to stay active and, due to a lot of moving, he found the process of finding new people to exercise with was too slow for his liking.  Now FitMate Social is changing up the swipe game and giving an easy fix to anyone struggling to find someone to workout with.

FitMate Social is similar in app structure to Tinder but not so…"Tinder-y" if you will.  It's intended for you to find a completely platonic relationship connection that is centered around fitness activities and exercise, not hooking up.  Now you can find friends for all walks of life by just swiping. Hooray!
Would you hit the gym with a buddy you just met? Tweet us @StarterNoise using #swipeforfitness and tell us what you think!