In need of some creative inspiration and savvy entrepreneurial advice? Well, you may be in luck because The White House has announced that on October 3rd a coalition of musicians, artists, entrepreneurs, and filmmakers will gather for the first ever, South By South Lawn: A White House Festival of Ideas, Art, and Action—or simply put, SXSL.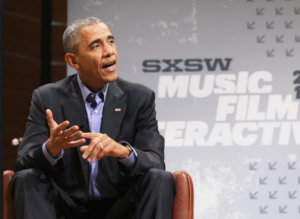 Inspired by South by Southwest or SXSW, SXSL will be a festival-style event that celebrates the ingenuity of innovation, music, interactive exhibits, and intellectual discussions about ways to make a positive difference in American society. So what can you expect at an event like this? Well, Obama will be in conversation with Leonardo DiCaprio and Dr. Katharine Hayhoe, performances by hit artists The Lumineers and Sharon Jones and the Dap Kings, special appearances by The Duffer Brothers and the cast of Stranger Things, and so much more.
With an event-packed schedule, the festival is sure to bring in quite the crowd. But in order to attend the event, you need to nominate yourself or be nominated by someone you know. Nominees have received invitations to the event already, so if you can't make the event or weren't nominated—don't sweat it! The White House will be live streaming the event at WhiteHouse.gov and Facebook.com/WhiteHouse.
Think you'd check out this awesome event? Tweet @StarterNoise using #SXSL to let us know!

Katherine is a newbie to Denver. She recently completed her Masters in Peace and Justice Studies at the University of San Diego. When she isn't trying to save the world, Katherine is all about trying any and all delicious foods, hitting up the beach but not actually swimming (deathly afraid of sharks), and taking as many hikes as humanly possible.