The premise is this: Make banking easy for people, eliminate annoying fees, and make budgeting and saving less cumbersome. Simple is attempting to do just that, and taking on the Goliath of corporate banks. Well, sorta taking them on.
If start-ups are about disruptions, then Simple is definitely disrupting, but perhaps not the way people hoped for when a new method of accessing and controlling your money was introduced to the public. Concerns surround banking newbie, Simple, a company that both offers what people want and doesn't offer what they want at all.
Sure, they have eliminated fees. Sure, they have removed charges associated with overdrafts and transfers. Sure, they have made 100% mobile banking possible. They even offer APR on your accounts when a lot of the big guys seem more interested in taking then giving back to their customers. At first glance, it is all a go! But, a closer look reveals some limitations that stop them from really going mainstream and reaching maximum social impact.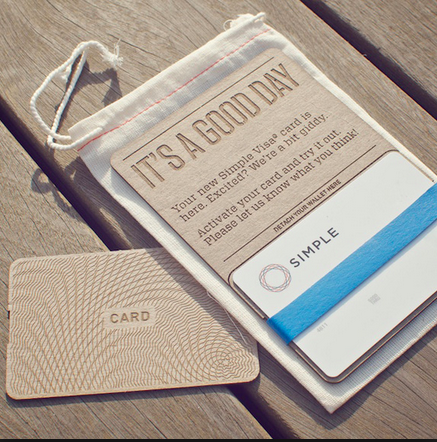 For example, there is currently not a way to sign-up for a joint account with Simple. Not a problem for single folks, but an issue for just about everybody else who would want to primarily use Simple services without being concerned with transferring money between two accounts.
Also, Simple doesn't currently offer some of the extra services that banks can offer – loans, investments, trading, wealth management, etc. Most people at least start at their bank when looking for these services, and maybe everyone will get used to dealing with multiple of financial services, but keeping everything in house is a feature some are looking for from their bank.
Lastly, no branches mean absolutely no possibility of face-to-face contact. I don't go to the bank often, I use my online access and app to do a lot of my banking and I use a third-party app to do my budgeting, but this approach might not suit everybody. Simple says that with their set up, "You'll never miss your bank branch." Well, maybe.
Here is who Simple really works for: Those that have only straight-forward finances, those just starting out with banking, those that hate fees, and those that don't mind using technology-only to interact with their financial institution. Basically, those whose finances are simple.
I think the institution of banking needs a disruption. But, I am not totally convinced that Simple is the way to go. What about you? Do you use Simple? Would more features need to be developed before you did? Share your thoughts about this attempt to disrupt the banking industry at @StarterNoise using #MyMoney