Don't all of our best ideas come from the bathroom? Mine sure do at least. Whether it be standing in the shower, or sitting on the porcelain thrown, the bathroom is a magical place. A vortex for incredible ideation. But, have we stopped to think about the plain, old, boring, generic gender signs out front of this great room? Not until the world saw this: #itwasneveradress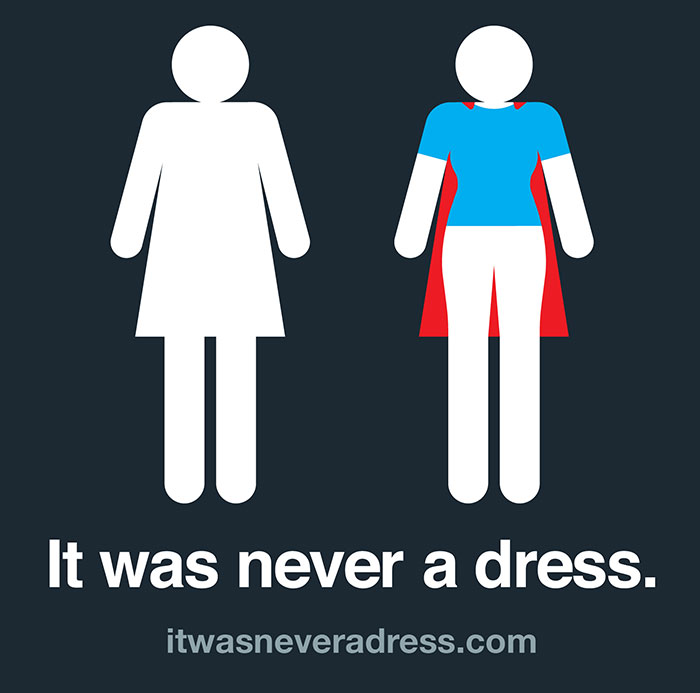 The sheer brilliance and perspective switch was spear-headed by Tania Katan of
Axosoft
 – a tech company based out of Scottsdale, AZ. Tania and her team just recently attended the Girls in Tech Catalyst Conference in Phoenix where they were a title sponsor, and showed the world how to look at women differently. In fact, this is their direct mission: 
"It Was Never a Dress is an invitation to shift perceptions and assumptions about women and the audacious, sensitive, and powerful gestures they make every single day." 
StarterNoise couldn't agree more!
Let's share this message, encourage the fearless women in our lives, and participate in the conversation. Engage at
It Was NEVER A Dress
.
Last thought: Who is ready to recreate the male bathroom sign? Submit your entry to
@StarterNoise
using #itwasneveradress #newbathroomsigns