Last week, the Starter Noise crew caught up with the founders of Shinesty, a clothing company based out of Boulder, CO. Run by two recent college grads, this clothing brand ain't yo mama's boring boutique on the street corner. No, Shinesty is on a mission to stop people from wearing boring clothing. That's right . . . and they will stop at nothing until that mission is complete (not even sexual jokes on Facebook).
Enjoy.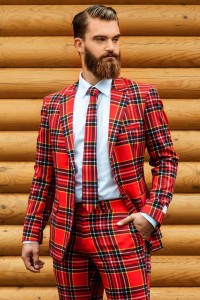 [StarterNoise] 1. Tell us about Shinesty and some of the major milestones you accomplished in the early days?
[Chris White, CEO & Co-founder of Shinesty] We started the mission about a year and a half ago. I moved to Boulder in 2010 after graduating from DePauw University. No one has ever heard of it, but we make the Top 10 party school list every year. That's what happens when you are in the middle of nowhere . . . Greencastle, Indiana. After a while, you need to spice up the party. So, I dressed up, looked the part and dominated. I amassed a crazy wardrobe of party gear. All of my findings were either from a thrift shop or eBay. My co-founder, Jens Nicolaysen, found his gear the same way. But after our undergraduate days, we gave away all of that "loudmouth" stuff and settled in for our real-man jobs. Let it go on record that was the biggest mistake of our lives. Since working at the 9-5, we then had the money to go to Burning Man, Mardis Gras and hit up Boston for St. Patty's day. We were still young, wild and free, but we didn't have all the time to go searching at unpredictable locations such as thrift shops and eBay. We needed clothes that liked to party, and we needed them fast. Shinesty was born. It crossed paths for us about what we are good at and what we love to do.
[SN] 2. How quickly did Shinesty support you and Jens full-time? Do you have a piece of advice for someone coming out of college choosing between a business idea and a traditional 9-5 job?
[Chris] Shinesty started in July of 2014. We both went full-time in April of 2015. The traditional 9-5 job is only valuable if you are learning. It must be developing your skill set and offering you more than just a paycheck.
[SN] 3. You guys clearly have a ton of fun at Shinesty. What have you done to keep the culture and style of Shinesty alive as you grow so rapidly?
[Chris] We are a team of 18 and are expected to double over the next year. We are super strict and patient when hiring. Our focus in on the fun. Softball Tuesdays and weekend brewskies are some of the regular happenings at Shinesty. We are a family during work and outside of work.
[SN] 4. Shinesty is on a mission to fight boring clothing. Can you give us an example when you have been outspoken and maybe offended some people online?
[Chris] Yeah, check out this picture of our sunglasses that we photoshopped onto a billboard, then posted up on Facebook: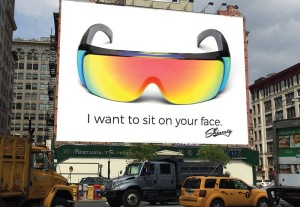 Whenever we reference a sexual innuendo, our engagement and sales go up by 10x.
[SN] 5. Who is the most famous person you know of that has worn a Shinesty suit?
[Chris] Brock Hecking and Kyle Emanuel from the San Diego Chargers were spotted wearing Christmas suits. Check out Brock's mullet.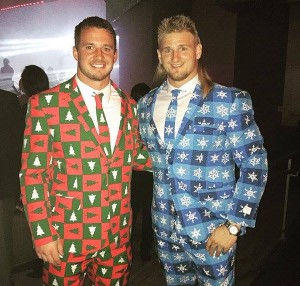 [SN] 6. Can you tell us about your funding, business in Boulder and how you are looking to grow?
[Chris] Sure. We have received $900,000 in funding to date and have a great team of mentors and advisors. Boulder is a hotbed for tech startups, so we stick out a bit, but love the community that has been built. We are looking to grow by adding awesome members to our team. Open positions can be found here:
Shinesty Jobs
[SN] 7. We hear that you recruit college campus reps for Shinesty. How many reps do you have around the country, and what would you like to say to anyone that wants to become a rep?
[Chris] We currently have over 200 reps nationwide. My message to campus rep hopefuls: BE WEIRD.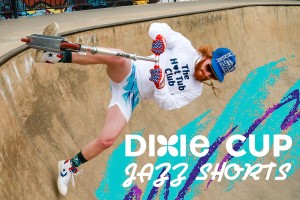 [SN] 8. Can you tell us what you are working on right now?
[Chris] Right now I am working on a new feature for the website that will allow users to give feedback on our designs, create designs of their own and collectively vote on a winning style. We are excited about learning more from our customers.
[SN] BONUS – Shinesty is giving our readers $15 off any order of $75 or more! Use coupon code: StarterNoise
About Shinesty
Chris White, CEO & Co-founder
Jens Nicolaysen, CMO & Co-founder