The Boulder-based accelerator MergeLane was created when members of the same co-working space came together to establish a business accelerator program that would get more women into leadership positions at today's rising companies. "Not only because it is the right thing to do," explained program director Hannah Davis, "But because it is the smart way to increase diversity" and, with it, the success of the company.
The proof is out there: Investing in women brings higher returns to today's companies. It is not only a social good, it is smart business. Women led tech companies, for example, have 35% higher rates of return. With at least one women leading, diversity increases, which increases the scope of ideas on the table, the innovation that is possible and the potential reach of the company. Businesses are just plain more successful with women in leadership positions.
A Truly Unique Program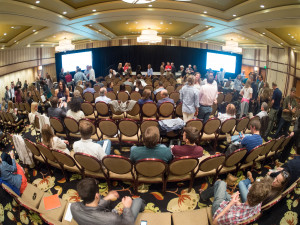 The MergeLane accelerator program is designed to work with companies that have at least one woman in a significant leadership role at a company. She can be a co-founder, investor, or carry another title, but she must be a decision maker. When designing the program, unique considerations were made in order to create a program that would truly support the companies and people MergeLane was focused on accelerating. For example, their 12 week program is done remotely with only the first two weeks and the last week onsite in Boulder, Colorado. This allows for more businesses to participate in the program, including those that are more mature, since no one has to leave their team for a quarter.
MergeLane also took a traditional, early stage business accelerator curriculum and added specific areas of interest and conversations that would apply to their women leaders. These conversations may include how the women can reach their full potential, ways to advocate for the business, or the power of thinking big. The additional curriculum topics allow women to bring their own insight and experience to the table in a way that is powerful and strengthens their leadership potential.
MergeLane also provides a unique support option for their participants by matching up those in the program with CEO coaches that can help with everything from business decisions to leadership questions, team dynamics, and the challenges that come with starting, running and scaling a successful business – like balancing family time with work requirements. This focus on mentorship is a powerful way that MergeLane offers something a little different than other accelerators.
Finding the Right Business
With the requirement of having a significant female leader for their program, the team at MergeLane is committed to actively discovering the teams that fit their mission. Studies show that men will apply for a position they want when they have only 60% of the qualification requirements while most women will only apply when they have 100% of the qualification requirements. MergeLane team members reach out to businesses that could benefit from this unique accelerator and invite them to apply to the program, thus extending the invitation to businesses who have not yet heard of the young program.  One of the businesses they worked with in last year's accelerator was Havenly, an online interior design company. In just six months post-demo Havenly raised $7.5 million in Series A funding.
Currently, MergeLane is accepting applications from interested companies for their 2016 accelerator. Companies with a female lead, who have not yet raised more than $5 million in funding, but can show traction and a propensity to scale are encouraged to apply to the program. All industries are welcome and extra consideration is given to strong teams that have extraordinary people aboard. MergeLane will accept 10 companies this year to start the accelerator in February 2016.
Check out their application process, which ends November 23rd, 2015 HERE.