TuSimple plans to build an entire network of autonomous vehicles by 2023. 
A new way of ground transportation? Maybe a new way of shipping for the future? An up-and-coming self-driving truck company called TuSimple is looking to pave the way for the future of long-haul ground transportation.
Picture this: you're a delivery worker on duty to offload any imported items into your warehouse, when you go to the driver of the delivery semi-truck to sign off on the items that were delivered, you are in awe when you realize that there is no one there! You wonder, where could he have gone? But that's the catch; he wasn't even there from the start.
TuSimple is looking to change the game in long-haul ground transportation. Xiaodi Hou, the founder of TuSimple, has created a brand-new technology that he has implemented into his own Semi-truck fleet. He calls it the "TuSimple Autonomous Freight Network." But what does that really mean?
Well, here is how it works. The TuSimple Autonomous Freight Network uses multiple technologies to allow the virtual driver to recognize and decide 30 seconds ahead. The techno allows the truck to avoid problems, increase efficiency, and keep safe. It uses an array of enhanced HD 360 cameras to map out the area around them—night or day—up to 1,000 meters! LiDAR, a light detection technology, allows the truck's virtual driver to scope out the environment around them with a range of 200 meters! It also has a highly advanced radar system that allows the truck's virtual driver to see up to 300 meters in unsuspecting conditions such as heavy rains, dust storms, and thick fog.
TuSimple is dedicated to making sure your products get where they need to be when they need to be. They achieve this with TuSimple Connect. TuSimple Connect is an operations monitoring system that has real people watching the trucks' every move, making sure that the truck is safe and out of harm's way the entire ride, and giving users of TuSimple a little less to worry about in their lives.
To create a driver that never drinks, never texts, never is distracted, and never gets tired is absurd to think about, but TuSimple achieves what people had thought was fantasy just five years ago. TuSimple wants to make freight shipping less of a difficulty to the entire world. With no driver, shipping can be much more efficient, helping the environment as much as it can, and having the ability to work 24 hours a day, 365 days a year, with only 36 hours of travel time from coast to coast. It can also achieve a safety rating no other shipping company can reach with human drivers. This is, in fact, due to the always active virtual driver system. And if anything goes wrong, TuSimple always has a human operator on board the delivery vehicle to keep the truck out of danger.
TuSimple is aiming to have an entire fleet of trucks to cover the entire U.S. with Autonomous delivery trucks by 2023! If they can achieve this, they will become the first mass shipping company to use fully autonomous trucks—a monumental success for the entire industry to achieve this.
Follow StarterNoise to keep up on tech news and breakthroughs. And get the scoop on the big things, follow us on Twitter and Instagram.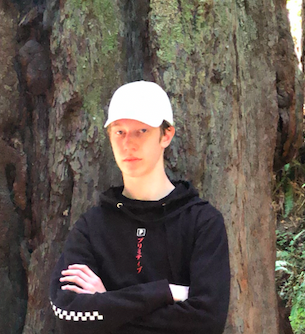 Brandon Fischer has experience in all things tech, (and video games, but mostly tech). He's a former Esports player and total computer expert, and now he's making a name for himself by sharing his expertise, or, "TECHpertise," if you will. Need an expert to teach you what the heck "LOL" means, or how to use a crypto mining rig? Brandon has you covered.