When you think of women's wardrobe essentials, the list often includes a little black dress, the perfect pair of jeans, a classic pair of pumps. British underwear brand Cheek Frills (@CheekFrills) is making the case for a new essential wardrobe piece: the perfect knicker.
Founded by Katie Canvin and Lily Fortescue, Cheek Frills launched in 2012. Canvin owned Austique, a luxury contemporary fashion store in London. While they sold a number of underwear styles, Canvin says none of the brands had developed a good brief or knicker. Canvin explains,
"The British girl traditionally has always worn a knicker, but there was nobody following the U.S. model; and in the U.S. I don't think the knicker has ever been such a strong product, the cooler girls have maybe previously worn a g string or a thong or boy short, and that's why no one out there had ever focused on it. We're quite a US style brand, but with a UK product."
Canvin sketched out a design, connected with a manufacturer in Hong Kong, and started selling the knicker in their store. The sales figures pointed to an opportunity to expand the line, Canvin explains.
"The knickers were outperforming anything in the shop and outperforming any of the other leading brands in the contemporary luxury underwear market, so we realized we were really onto something."
Cheek Frills began international wholesale in 2014 after being contacted by UK department store Selfridge, as well as online retailer Shopbop. Although the brand launched just two years ago, Canvin says they've benefitted from a long period of product development.
"I don't think we'd be where we are today without having that six years of trial and error, really. It gave us that freedom just to find out what was really resonating with the customer and it wasn't until we were at a point when we felt that we had all the elements right; product, price, branding, so we really nailed our market that we felt ready to launch and that we had the perfect product."
Canvin says another element of success has been finding the right partners to work with, like their manufacturer.
"We were really lucky that the man with the underwear factory that I met in Hong Kong all that time ago was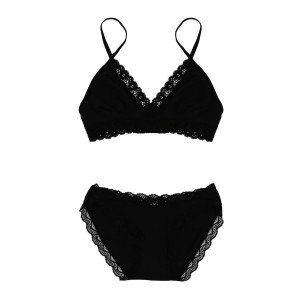 brilliant and he had a great factory, but it just as easily it could have been a disaster and a terrible factory. It's about finding the right partners and making sure you're working with a supply chain you can really trust and rely on."
As the brand grows, there are new lessons to be learned. The importance of staying true to brand DNA this past year became clear when Cheek Frills attempted to expand into the loungewear line. Canvin explains,
"I think it was something that we had to experiment with just to see how our customers responded. But they've told us, they've shouted at us loud and clear that there are wider bits and pieces around the knicker, but it's really about the knicker for us."
This year, Cheek Frills plans to expand into the U.S. and Australian markets, and further develop e-commerce activities. The Cheek Frills knicker was selected to be featured in an exhibit at the Victoria & Albert Museum this spring, titled "Undressed: A Brief History of Underwear". Canvin says Cheek Frills was selected as a representation of underwear today and where it's going. Cheek Frills emphasizes a sustainable supply chain model, with nontoxic dyes and a natural modal fabric.
Ultimately, Canvin says the entrepreneurship experience is simultaneously challenging and rewarding.
"You get to do a bit of everything, that's probably the worst thing and the best thing. You often feel like you're never doing anything well because you're having to jump around and one day you're the marketing department, the next day you're doing accounts and reporting to investors, but that's what keeps it interesting and exciting."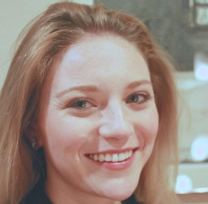 From the markets of Budapest to the skyscrapers of London, Caitlin is our expert on all things European. Located in Copenhagen, Denmark, Caitlin keeps us up-to-date on the European startup landscape, plus culture, food and whatever she finds along the way.