The app industry has been revolutionizing just about everything. The way we buy food, order takeout, listen to music, catch up on news, submit assignments, follow favorite sports teams, and stay connected to friends and family are all different than they were just a few years ago. Not to be left behind, the wedding industry now has an app for happy couples so their guests can have a constant connection to their big day. The "Ultimate Wedding Concierge Service" they call it, and it might just change everything about being a guest at a wedding.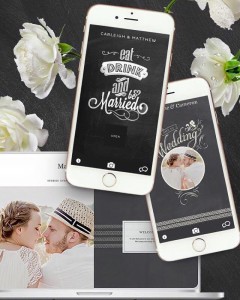 The app Appy Couple gives couples the ability to build a personalized website and app with no technical experience required. Over 500 themes and easy-to-add features are available through the service. Couples can tell their story, add photos and list event details for guests. Guests are given access to the information they need, but, just the events they are invited to so there is no confusion. Meet the wedding party? Check! See who else is on the guest list? Yep! Get travel info? Of course! Get a breakdown of each event, including them and attire information, and a map of where they are compared to your hotel room? Yes, Appy Couple can do that, too.
I can imagine the added ease that this brings to couples, the wedding party and all the guests. The last wedding where I was a bridesmaid had a never ending stream of texts, calls and inquiries about dates, times and locations fielded by multiple people within the wedding party all trying to give the bride enough space to concentrate on the actual ceremony. An app with all that in one place would have saved us all a lot of stress. A well designed, thematic, app where people can share photos with other guests and have conversations with people that will also be attending the wedding? Even better!
The Business of Wedding Tech
Taking one of the most stressful times of a person's life and breaking it down into an app is not only brilliant, it is good business. Appy Couple had a waiting list of over 7,000 people when it was in invitation-only beta mode. It raised $1.2 million six months later and has been ranked as one of the best wedding website building apps available consistently over the last three years.
From an app development perspective it provides an easy user interface for building, launching and updating information in real time. It also combines that most wedding-centric features like travel, photos, plans, stories, registry and gift information and conversations between guests into one easy-to-access place. It has updated its themes, adding over 200 more in just two years, so couples can still make their wedding communications in line with their colors, theme, location and personality. In an day where immediate access, constant connectivity and up-to-the-minute information rules, employing the same concepts and accessibility to wedding communications makes a lot of sense.
Appy Couple charges only a one-time set up fee of $39 or $69 for their service, depending on package. This makes it also one of the cheapest things most brides and grooms will likely pay for when planning their big day.
Seems to me that an app is the next natural part of wedding day communications. Did you use one, or would you use one to communicate with your guests? Talk to us @StarterNoise using the hashtag #WeddingTech