Chocolate or Vanilla?
Or New York Super Fudge Chunk?
When a simple product that can be found in almost every person's home goes from being the sole product of a small start-up to an iconic piece of an international company there are surely a few lessons to learn.
Ben and Jerry's started in 1978 with a $12,000 investment and two partners – Ben Cohen and Jerry Greenfield. Now one of the most well-known ice cream brands around, Ben and Jerry have paved the way and fought hard to keep their ideals while growing their company. Here are few lessons from the Ben and Jerry's story:
Don't Let Limitations Limit You
Ben Cohen may have co-founded Ben and Jerry's, but it wasn't because he loved ice cream so much he just needed to make it. Actually, Ben can't even taste ice cream. With severe anosmia – a lack of smell and taste – Ben's eating habits are texture based and are what led the company to incorporating the chunks and pieces that help distinguish it from other brands. What could be perceived as a limitation became a huge asset for the company.
Fight for What is Right
Two different times – once in 1984 and once in 1987 – The 10-year-old Ben and Jerry's ice cream company went up against the more experienced and established Häagen-Dazs, then owned by Pillsbury, who was attempting to establish exclusive distribution and edge B&J's out of the market. Thankfully, this injustice didn't go through and people are free to buy Chunky Monkey, but start-ups take note: Being small doesn't mean you can be bullied.
Support Important Causes Beyond Your Business
The Ben and Jerry's Foundation was established in 1985 and funds community projects. The Foundation receives a portion of the pre-tax profits of the ice cream company. Setting up a foundation and funding it with profits allows Ben and Jerry's to support non-ice cream related happenings that they believe in and be part of broader social impact.
Make Products you Believe in the Way you Want Them to be Made
In 1989 the ice cream company made public that they were against rBGH – the growth hormone given to cows. Making ice cream without rBGH products may be more expensive, but making a product you believe in and doing it the way that is right has been another reason that Ben and Jerry's has stayed in the game and ahead of the curve.
Beyond rBGH, the company also has made decisions to ensure more environmentally friendly packaging is used and has committed to GMO free products. They have even come out in support of GMO labeling legislation which is a big deal in the food production industry.
Use Your Power for Good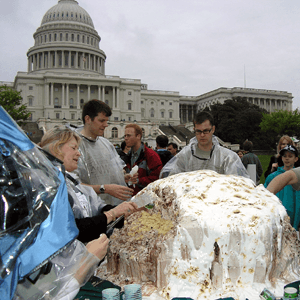 Ben and Jerry have strategically used their influence and successful company to fight for causes they believe in. Climate change, animal cloning and military spending are just a few of the issues that they have focused on. In 2005 the responded to the proposed drilling of the Arctic National Wildlife Refuge by creating a 900 pound Baked Alaska and putting it in front of the U.S. Capital Building. In 2009 they used an April Fool's hoax to raise awareness about animal cloning. Happy cows, kids safety, civic engagement and even carbon emissions have been on their radar and attacked with their own brand of humor and attention-getting.
A complete list of the Ben and Jerry's Social Causes can be found on their website.
Build a Better Company
Ben and Jerry have shown us that it is possible to build a thriving company that doesn't lose it's values and can be counted on to do the right thing. Startups that want to make a social impact need not focus only on their one cause – they can focus on a great product, a stellar marketing concept, good sound business sense and turn the money that comes in into a difference in their community, the nation and the world.
Feature Image Courtesy of Ben & Jerry's Facebook