One of our absolute favorite topics to chat about (if you haven't noticed) is sexual wellness.  Conversations with founders from the US, Australia, France, London, and now Germany have been eye opening to understand cultural challenges and values.  We were especially intrigued by our conversation with the founders of Nudco: Minna Hurmerinta and Krista Lindholm.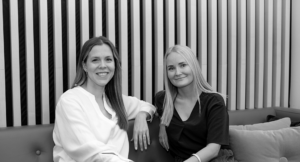 Female-founded in Berlin, Germany, Nudco noticed the emphasis being placed on healthy eating and healthy wellbeing and questioned why there was not an emphasis on sexual wellbeing.  Walking in stores and asking, why do all the lubes still look so ugly?  Why do they look like they've been designed by men?  Why hasn't anyone really solved this problem?"
 As a new mom, Minna found herself taking a deep dive into connecting to who she was as a woman, not just as a mom.  Inspired by finding that connection, Nudco wants to cultivate this idea for every woman – How can we enable women to reconnect with themselves?  Not just sexually, but really come in tune with their bodies and find that connection.
Speaking with the Nudco founders, they both emphasized that many people struggle with cultivating  a personal connection to themselves or feel uncomfortable speaking about anything intimate.  During research, Nudco found that for many, despite being married for years or in long relationships, they had never totally opened up about intimate topics with anyone other than us.  
Female pleasure is still taboo.  However, launching Nudco in Berlin was much different than in other parts of the world.  Berlin is characterized by being more open to sexuality, free body culture, and so on. Nudco was not a company people felt ashamed to use;  rather, open to exploring the possibilities.
Nudco is a company that has had a tremendous amount of thought go into it.  After realizing that many products consist of formaldehydes and other carcinogenic ingredients that can be very dangerous,  Nudco wanted to create a natural and vegan product that honored their values.  
The mind, the body, and the social are all three elements that drive Nudco.  Using the mind to reconnect women to themselves.  The body as a way to connect with others and nature.  And, the social to understand your impact on the community at large.
What really caught our attenuation was Nudco's commitment to sustainability.  Not only in the products themselves but their business operations..  How they locally produce, how they ship maintaining low Co2 emissions, ecological packaging, and beyond.  So powerful.
Nudco currently sells four products Personal Lubricant, Intimate Oil, Massage & Body Oil and Condoms.  Using ingredients such as Oat Oil and Black Currant Oil, Nudco was inspired to bring a Nordic background to their formulations.  Every ingredient serves a purpose.  
During our conversation we also got to chat a bit about Nudco's funding journey.  Nudco has had significant luck working with angel investors.  Krista shared, "it was quite an experience because neither of us had done fundraising before. We heard these stories about females in this space having difficulties.  But, we were lucky enough to find investors who were a good match and who we found were on the same page."
Advice from Nudco's incredible female founders: "you really need to also trust yourself. Especially as a woman it's really tough to stand out and not doubt yourself.  Certainly in male-dominated industries, I would say to do your own thing and trust in your guts.  When you follow your passion you will find the right way."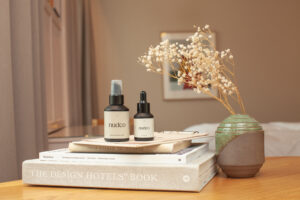 Chatting with Minna and Krista, we could feel their energy and light shine through.  We are so inspired by Nudco's commitment
 to reconnecting women with themselves, creating products as close to nature as possible, being driven by sustainability, and much more.  
Be sure to check them out here and test some of their magical products.  They also have a fabulous and very informative blog.  Don't skip out on this one, let us know your thoughts @StarterNoise.