Our skin is our body's largest organ. Now more than ever, it's so crucial we take care of it, and it's derivatives (hair, nails, sweat and oil glands) which make up the integumentary system.  In fact, did you know that 70% of our skin and 30% of our total body protein is made of collagen—it's the protein that literally holds us together.
One way to care for this amazing part of our body is to care for it with the safe products from some of the amazing clean beauty start-ups or non-profits like the EWG, all of which are carving a way for us to better educate, learn, and use safe products.  
We've fallen in love with the idea, knowledge, and consumption of clean and healthy substances – it's such an important part of overall health. Feeling healthy and beautiful on the inside will create an outward effect. 
Our curiosity led us to having an amazing conversation with Bassima Mroue, one of the co-founders of SkinTē. And all I can say is: Hello, liquid radiance – this company is one you'll want to follow, taste, and seamlessly adopt into your daily routine.  
Why We Love SkinTē. . . 
SkinTē is the first-ever collagen sparkling tea for an inner glow that shows.  This drink is the real deal and paired with its unique packaging , SkinTe has all the goodness in a can: 3000mg of Collagen, Super Herts + Antioxidants, No Added Sugar, No Artificial Sweeteners, No Dairy or Soy. 
Founded by women, and created for everyone looking for a tangible way to boost their mood, and take care of themselves by simply sipping a delicious beverage.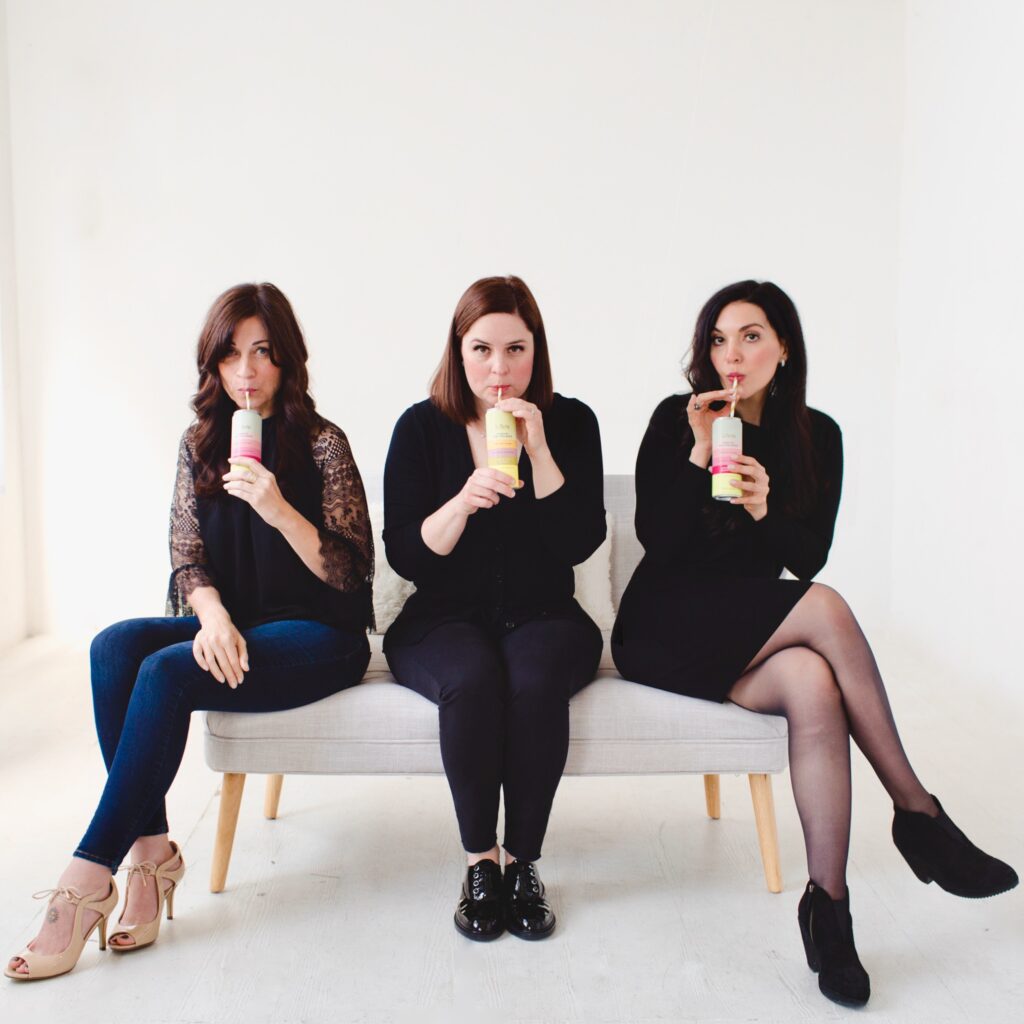 How it started. . .
Every badass startup has a story, a reason it got to where it's at and I think that's one of the drawing points for SkinTē. It was founded to solve a real problem that real women are having all across the world today. 
Bassima was so down to earth and shared that she and her two co-founders: Elizabeth Zieg and Dr. Amy Bader we're all going through some really tough hurdles. Life threw some serious challenges at all of these women, and one thing they found in common was a way to care for themselves from the inside out. As they each brought a different and crucial component to the idea brewing – their love for collagen collided and SkinTē was born. Bassima explained "So we ended up starting. It was really intuitive. It was strong female energy and intuition that went into it". 
A Global Pandemic + Funding Journey. . . 
"Funding is really, really hard. And I do consider myself lucky. I know that less, there's less than 2% of women and even less African-American women get funding," shares Bassima. Bassima states some of it was luck, but it was evident that her passion and knowledge for this product was a main driver for their success. SkinTē has some amazing backers and believers  such as Venture Capitalist, Brain Lee; supermodel and Kode With Klossy founder, Karlie Kloss; Spanx founder Sara Blakely; Leslie Blodgett, and many more. We could tell from our conversation that they have all been phenomenal and beyond supportive whether it has been funding, connections, or introduction – they can see, feel, and taste where SkinTē is going. 
Like so many other companies out there, SkinTē launched and began fundraising rights as the COVID-19 pandemic hit. Bassima told us "everyone thought we had to shut down. . . COVID hit and then, we kind of froze". Not knowing exactly how consumers would respond to a higher priced collagen drink during such uncertain times. 
Bassima explained that because of their incredible team and supporters they were able to hang on and move through the uncharted territory of life during a pandemic.  "Several of them stayed on board and said, we're staying with you regardless."  Bassima shared, "all of a sudden our sales started to blow up. And then the investments came in." Not only did the investments roll in for SkinTē but as of Q1 2021, SkinTe has raised five million and is off to the races. 
Throughthis roller coaster of a time, SkinTē and their team became this sort of COVID wellness drink. "And thank you to our consumers and our fans, because somehow, you know, we are the type of brand that can survive a pandemic and thrive. 
Huge growth + Self Care In A Can . . .
Not only did they thrive during the pandemic, SkinTē grew 300%, and Bassima stated that "I believe it's because of the intentionality around the herbs. The drink was really intended for emotional and physical wellbeing, not just physical, that was really important to us, your mood." 
As the conversation went on we could feel what a humbling experience this has been for the team and how overjoyed and appreciative they have become for everyone backing their product. 
To Our Entrepreneurs, Hustlers, + Founders . . . 
We asked Bassima for her best piece of advice for a young entrepreneur, and it's truly one of my favorites and I couldn't agree more: 
"You have to believe more than anybody else can believe. And the reason I say that is if you don't believe you're not going to make it, because if you're relying on other people believing there's going to be so many different opinions. It doesn't matter how many naysayers were out there, Elizabeth, Amy, and I just, we believed and it, nothing would shake us. You have to have that belief because it is so hard. And so if you're not 100% there and you're not all in, you won't be able to weather the ups and the downs. And I think that's really key. The belief is where it starts". 
We had the absolute pleasure of chatting with Bassima and learning all about SkinTē's story and products – just wow! SkinTe is the first of its kind and the best part  – the product is healthy, safe, transparent, and totally delicious. 
Give SkinTē a follow, or taste it for yourself and use promo code GLOW20 for 20% off. 
Share your SkinTē experience with us @starternoise.