"If you'd told me a couple of years ago that I was going to be the founder of a protein powder company, I would have laughed in your face," says Eric Wu, COO & Co-Founder of Gainful, a—wait for it—protein powder company.  I spoke to Wu on how he went from mixing protein powders in his basement à la Breaking Bad to disrupting the $5.4B protein supplement market. 
Here's how he and co-founder Jahaan Ansari are taking on the protein powder market with customized protein blends delivered directly to your doorstep.
How would you describe Gainful to someone who had never heard of it before?
Gainful is sports nutrition for everybody. Our flagship product is personalized protein powder, that's tailored to your unique body type and fitness goals.
You started this whole thing by mixing protein powders in your basement. Tell me more about that.
If you'd told me a couple of years ago that I was going to be the founder of a protein powder company, I would have laughed in your face. I played soccer growing up and that's how I met my co-founder ​Jahaan Ansari​ – we were on the same high school team and became best friends through that. After practice, we would watch our teammates slam their nasty protein shakes. It was kind of absurd, funny, and nothing that I really wanted to touch. When I stopped playing soccer at the tail end of college, I walked into a GNC, and quickly I was like "I don't need industrial-sized anything – especially not if it has a sweaty, shirtless, flexing bodybuilder plastered on the tub." I decided to take it upon myself to figure out what was right for me. So, I went back to my basement, bought some raw ingredients on Amazon, and started mixing everything up in Tupperware containers. My roommates thought I was nuts. My basement looked like Breaking Bad. At a certain point, I asked Jahaan, the smartest guy (and only engineer) I knew, to help me build a website. When he saw what I was working on he got way more excited than I expected and encouraged me to take this little side project and make it a fully-fledged business. And that's exactly what we did.
Is the quiz based on an algorithm? How does that work?
Yes. The quiz covers simple questions about your body goals, exercise, and nutrition. Behind that, we have a proprietary algorithm that powers a blend selection process. Jahaan built it with the help of our team of Registered Dietitians, as well as Science Advisory Board. All of our science advisors are experts with decades of experience working with the best athletes in the world. They helped us essentially digitize their brains into how they would select a system of sports nutrition products for the people who take our quiz.
What's your magic formula and the different "feeding trends" that are out there today.
Feeding trends is a good way to put it. We want to be very cognizant and empathic of all different types of people and what their allergies and dietary restrictions might be. So it's actually one of the questions in the quiz. We take that into account when we create your blend. 
Were you in college when you decided to kick this whole thing off? What's your background seeing as you jumped into Gainful so quickly?
Believe it or not, this is my first real job. And I would say it's hardly a real job, but a job I made up for myself. One major experience for my own professional growth was interning at a consumer hardware company called Hatch. Their VP of Marketing left on maternity leave the week that I started. So I kind of became interim VP of Marketing as a 20-year-old kid.
What has your funding journey looked like?
We went through ​YCombinator​ in 2018. When we finished YC, we raised a pre-seed round on SAFE notes –it was a number of angel investors and small institutional investors. We raised our official seed round at the end of 2018, and the lead investors in that round were ​BrandProject​, a VC firm based out in New York slash Toronto.
They've been huge supporters ever since they wrote the check for that seed round. And we actually just raised some additional capital at the beginning of the pandemic on a convertible note. We're very flattered and thankful to have been oversubscribed in that round. We're also gearing up for a Series A raise soon.
Has COVID affected Gainful?
Firstly, there's just much higher e-commerce penetration. If you weren't shopping online before COVID, you're likely doing a lot more of it now. But, we would never have wanted all this progress at the expense of what's actually happened in the world. It would be really wrong for us to say "oh, it's so great that COVID happened." But we're proud of being able to serve our customers despite all of the disruption and chaos. Additionally, the pandemic has taught a lot of folks the value of staying active and being more thoughtful and intentional about what they're putting in their bodies every day, whether that's a food or a supplement. 
How have you been navigating working remotely with your team?
We had the distinct pleasure of having signed a lease to a brand new, beautiful office in downtown San Francisco on March 1st. We of course gave up that lease – now we're all fully remote.
At the beginning of COVID we had 12 people. We just hired our 20th, and have more job openings right now. It's weird having a company that is primarily made up of people who have never met each other. But, we're excited to do some social distance hangs/group outings at some point in the near future. We're thinking through what our reopening plan might look like, but we don't want to rush anything. We've done our best to make people comfortable at home with a workplace stipend as well as virtual happy hours. We are excited to (hopefully) get back to having a real office.
How do you instill a good work-life balance? Do you encourage people to go work out? What are your strategies, and how do you keep everyone engaged and feeling that they can speak up when they need to talk about something?
The company is still quite small – we're 20 people. We're certainly not corporate by any measure. We also have an unlimited paid time off policy. I feel like a lot of startups say they give unlimited PTO, but then they expect people to be chained to their desk 365 days of the year. We genuinely want you to take your vacation.
I'd never want anybody to work 365 days of the year, get burned out, and then fail to do their best work and feel fulfilled just because they felt scared to take a vacation.
What's next for Gainful?
We have some new products coming out soon. We're always going to be thinking about what the next best thing to personalize is. So, that's your hint on what's coming next – it's going to be personalized.
But that's just the start. We want to continue rolling out innovative new products across sports nutrition, and we're also very excited to see where we might be able to take the brand beyond selling strictly online.
Where do you see the wellness space going?
Personalization is absolutely the way that we're going to unlock the next level of human health and performance. I speak with our science advisors – literally the people who feed Steph Curry – and for them, nutrition and personalization are synonymous. You can't have high-performance nutrition, life-extending nutrition, nutrition that makes your life demonstrably better, happier, and healthier unless it's personalized.
We want to take what some of the world's best athletes are getting and bring it to a level that the everyday consumer can not only buy for a relatively reasonable price but also understand and consume and educate themselves on. Our aim is to do this without being patronizing, and by putting every customer in touch with their very own Registered Dietitian. We want to be a trusted guide in their lives to help them access personalized nutrition – without breaking the bank or spending days and days researching on the internet.
Keep up with Eric and Gainful on Gainful's website, Twitter, Facebook, and Instagram. Take the quiz here.
Like what you read? Hear more stories from founders like Noah Gray, CEO & Co-Founder of Onda, and John Sherwin, Co-Founder of Hydrant.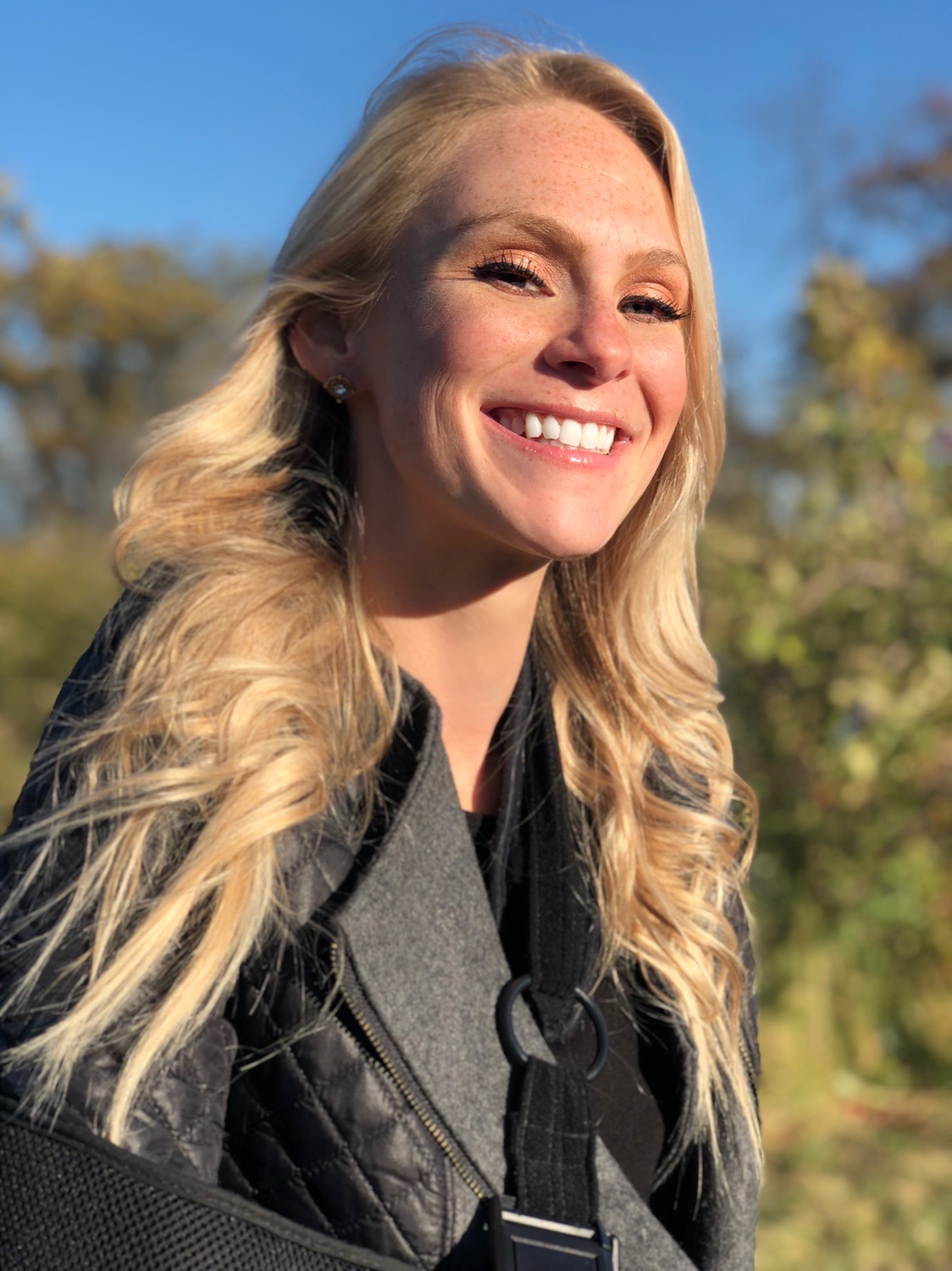 digital strategist | women's entrepreneurship founder | comedy writer
tech & startup expert | fantasy football disgrace | bee movie superfan | LA & MKE