The Extreme Tech Challenge is just what it sounds like: It's an extreme event for startups where the contestants are narrowed down systematically, and then the winner is announced after hanging out on a Island in the Caribbean – one owned by Sir Richard Branson – for a week. You know, the typical startup contest.
While the event has been mocked by some, it can't be denied that the Extreme Tech Challenge is backed by some big companies–IBM, Samsung and Forbes Magazine, to name a few. Necker Island is owner by Sir Richard Branson, founder of Virgin Group, and the top three contestants will pitch to him come February 2016. This is the second Extreme Tech Challenge.
We've already highlighted some of the amazing things Colorado is doing in the startup space here and here. So it's no surprise to Coloradoans (me included) that three of the top 10 startups in the running are from Colorado.
Here are some highlights:
Based out of Boulder, Kickfurther is helping normal people invest in businesses by allowing them to fund inventory and earn a share in the revenue. Each business on Kickfurther has a proven track record of sales, and Kickfurther vetts all businesses before approving them–so in theory not much could go wrong when you back someone. As an investor, you own the inventory you purchase. Although it's the business's primary job to sell the inventory, you can create storefronts to help sell the inventory and push things through your own social media outlets.
"Over $1 million in offers funded, over $250K paid to our users, and over 75 companies that have posted offers – many of which have done multiple offers. All of which has taken place since January!"
~Kickfurther Slideshow
We in Colorado know the importance of marijuana, and so does this Denver-based startup MassRoots. MassRoots is a large social media community for cannabis consumers, boasting over 625,000 users. They offer users the ability to post pictures them themselves smoking marijuana with the repercussion they might face on other social media sites. It's basically the Instagram for Mary Jane users. They have a blog that offers resources on marijuana, along with a store and lots of cool merch. MassRoots also allows companies to sponsor posts within the app, and its founders have been crucial in implementing pro-marijuana legislation.
"Cannabis gives us a moment to relax and remind ourselves that we are here to empower and connect the cannabis community; we're not here to make money or conquer an industry. Our goal is to serve our users and businesses using our app. Really, it's cannabis and the love of cannabis that keeps our culture intact."
~Isaac Dietrich, CEO
Sphero is "the beginning of a revolution in the toy industry," making robotic toys that connect to an app on your smart phone. They are also the creative minds behind the upcoming robot BB-8 in the new Star Wars film, and the adorable robot is, of course, in toy form to be purchased by the squealing masses. (This guy wasn't so stoked, though). Still, the innovation is pretty awesome.
As a Coloradoan, I'm pretty excited to see where these three companies are headed in the long run–even if they don't win at the Extreme Tech Challenge. The top three contestants for the Extreme Tech Challenge will be announced in January 2016, and then those three will head to Necker Island to present to Sir Richard Branson in February.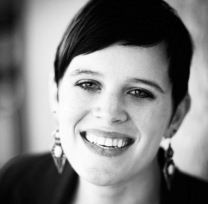 After working in publishing at Penguin Random House, Teryn O'Brien went the entrepreneurial route and launched her own business to help organizations and individuals tell their stories through photography, writing, video, and online marketing strategy. Teryn enjoys exploring the startup & entrepreneurial world, mentoring writers & storytellers, and speaking out against injustice in all its forms. She spends her free time hiking Colorado, writing books, and drinking too much tea.